GONG RECIPE BOOK
Coaching in a Pipeline Review   
Ingredients: Deal Drivers, Win/Loss Tool, Call Library, Streams
What is it?
Pipeline reviews are critical for understanding where sales reps' deals stand and forecast accurately. In addition, these regular meetings can also be a good opportunity to analyze reps' performance on calls and provide coaching tips so that they can improve and close more deals.
Who is it for?
Frontline managers are often focused on the pipeline and business forecasting. By comparing pipeline data with data about reps' activity and behavior, these managers can identify issues and provide coaching in the context of pipeline reviews to drive better performance.
How does Gong help out?
Gong provides out-of-the-box functionality that can be used to prepare for effective pipeline reviews and integrate coaching into them. This includes:
A single place (called Pipeline Inspection) where sellers and frontline managers can view an up-to-date list of their active deals, and easily navigate the pipeline by status (stage, forecast category, close date).

That deal board that enable the pipeline inspection presents the relevant data points that are helpful for the pipeline review process: methodology checklists (e.g., MEDDIC) and automatically computed data points based on what was said across all the deal's conversations (e.g., which competitors came up). This speeds up the review process and bases it on its true status versus outdated seller-provided data.

A deal inspection area that shows all of the deal's activity down to the conversation level (calls, emails), digital interaction level (e.g., prospect opened a document), and contact level (who is active). This enables efficient pipeline reviews and makes it possible to conduct most work asynchronously.

Deal-based insights that can be used to identify areas for coaching based on pipeline management:

Deals > Pipeline

Deals > Deal Drivers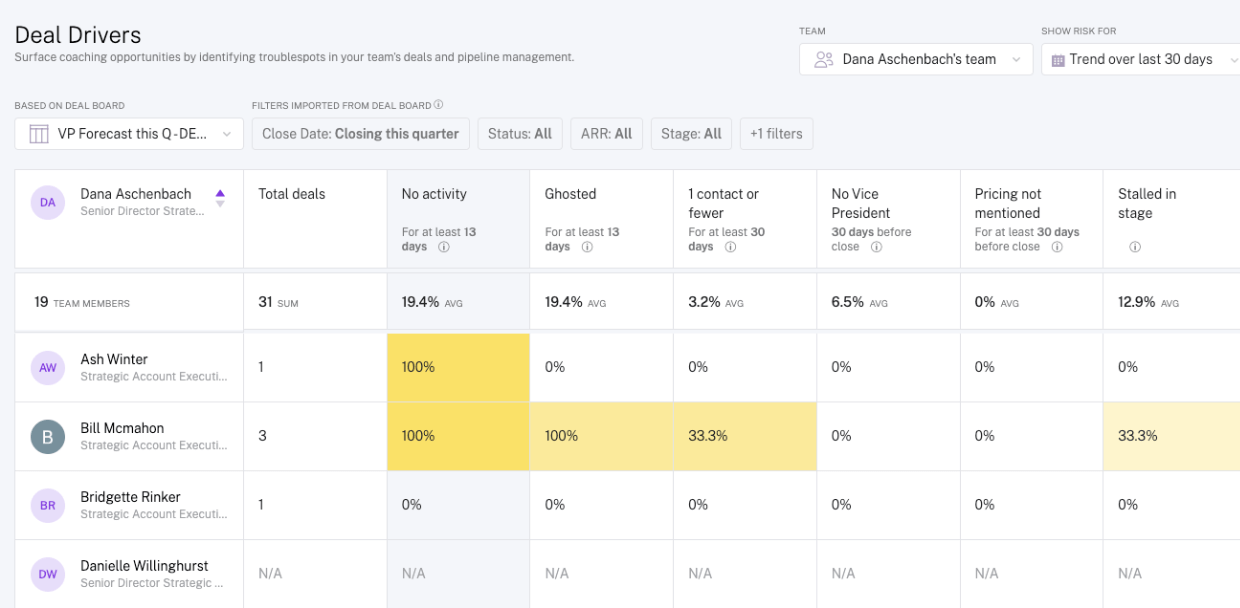 Skill-based insights that can be used to identify coachable behaviors:

Team Insights > Activity

Team Insights > Interaction

Team Insights > Responsiveness

Team Insights > Gong Usage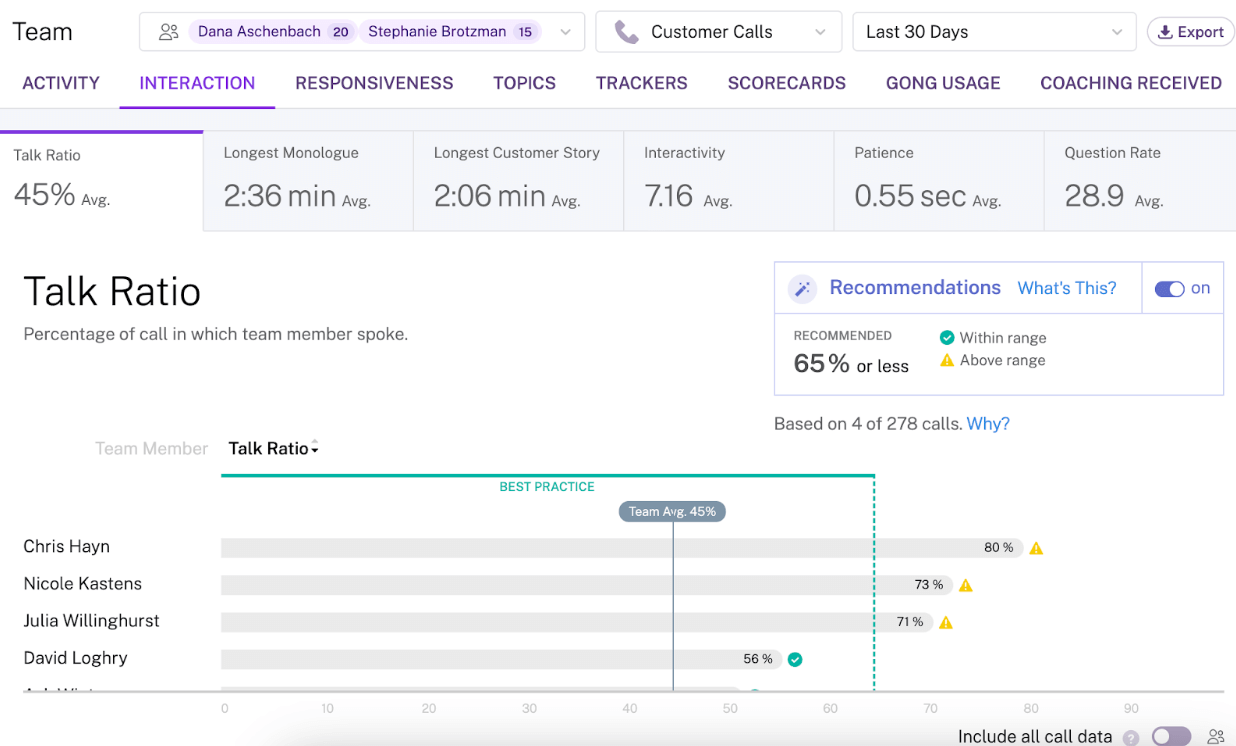 An AI-driven system that flags deals at risk (called Warnings) based on multiple criteria, including conversations (e.g., a customer informing of a negative step) and activity types (e.g., a specific contact who is ghosting the seller).

An overview of each rep's end-to-end deals process (Deals > Drivers), which can be used to coach reps toward wins.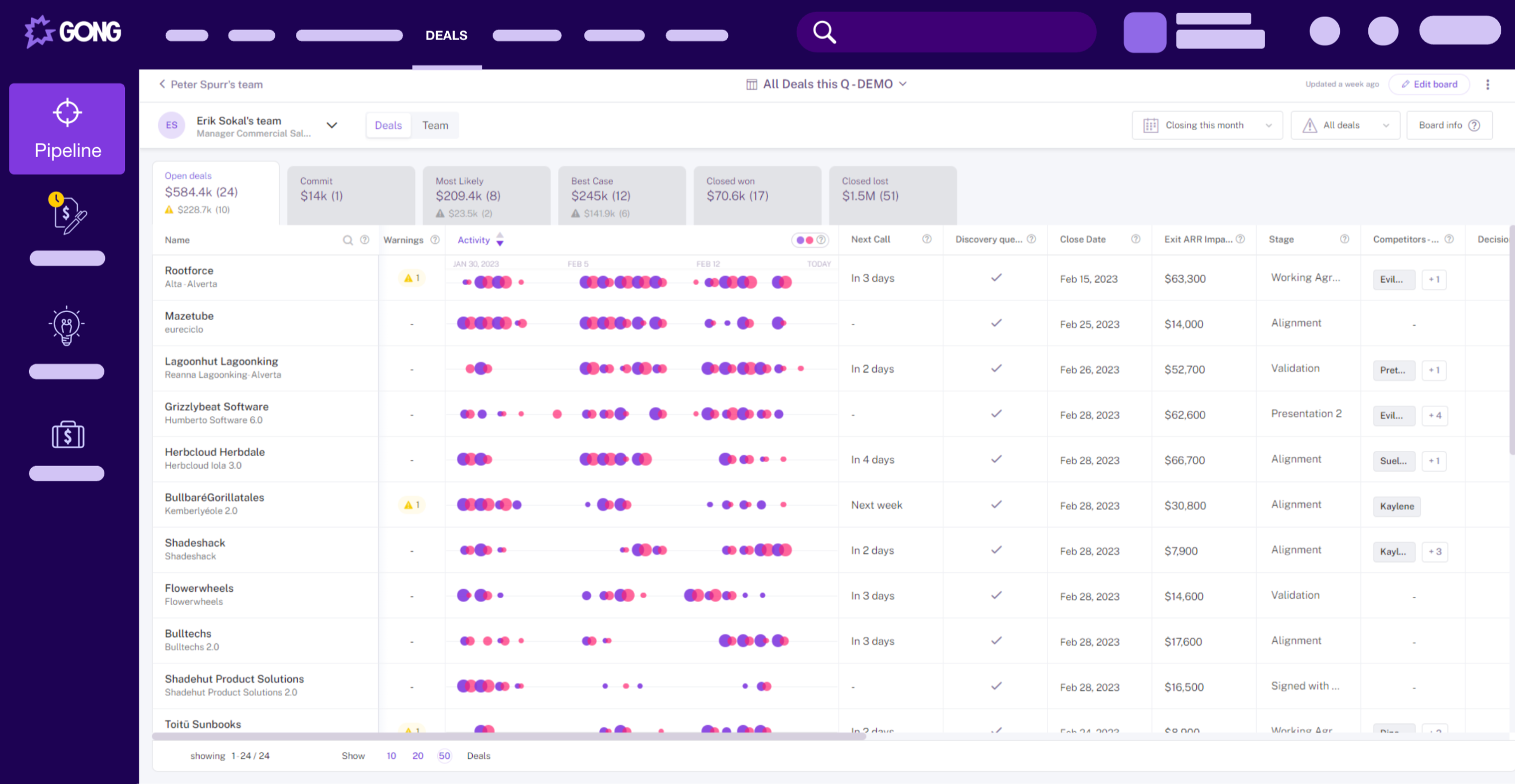 Streams and call alerts, which can automatically deliver coachable opportunities directly to a manager, based on specific criteria.

Dashboards to help coaches track their coaching efforts and keep themselves accountable:

Insights > Coaching Inbox

Insights > Coaching Metrics
How does it work?
1. Set up a Deal board (estimated time: 1 hour)
Leaders or sales operations team members can set up a Deal Board to guide frontline managers through the pipeline review process. The deals in the pipeline are pulled from the CRM (in a configurable way). The activity reflects emails, meetings, and calls captured in Gong.
2. Review a Pipeline (typically weekly)
Managers review the pipeline with the sellers synchronously or asynchronously. To help with prioritization, the system highlights at-risk deals. Managers can drill down into each deal and read the actual call transcript or emails to determine the strength of the relationship and the seller's behaviors to identify coaching opportunities. Deal intelligence on the pipeline
3. Define what good looks like, identify priorities, and create goals
Using the Insights and Deals tabs in Gong, managers can gather key information to identify what good looks like, see their team's baseline behaviors, and configure warnings to inform them of problem areas and areas for coaching. They can then identify coaching priorities and set goals.
4. Offer coaching in context
When managers uncover coachable opportunities via Deal Drivers, they can decide which deals to offer feedback and strategize or collaborate with their reps. They can also tag team members to highlight winning deal execution talk tracks, emails, and so on.
5. Create a coaching playbook
Using the Call Library's folders and subfolders, managers can gather calls that serve as good examples and save them so their team can tune in and learn from them. They can also set up Streams to automatically push good examples to the Call Library and notify team members about them.
Pro tips
Empower your team to use Gong's Deals to find areas they need help with, and make them accountable for their progress.
Take your Gong coaching on the go! With the Gong App, you can listen to calls and provide feedback whenever and wherever.