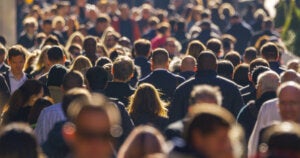 People as a competitive advantage
"I quit."
Ouch! Whether via Zoom, over email, or in person, the defeating blow is the same. Especially when spoken by a top performer.
Yet 47.8 million – yes, million – workers uttered this phrase last year in the U.S. alone.
That's an average of nearly 4 million each month, meaning 2021 holds the highest average on record, and 2022 has shown no signs of this trend slowing down.
The Great Resignation… The War for Talent… The Great Reshuffle… call it what you will – it's making hiring and retaining top talent much more challenging.
It's a trend not to be ignored or taken lightly by leaders. I, for one, take this very seriously.
Why does it matter?
People are your competitive advantage
Companies are always jockeying to find a sustainable competitive advantage. Something that will give them an edge over the competition.
As companies search for meaningful ways to differentiate, common themes typically emerge: product, strategy, patents, brand, value.
But there's one key advantage that is often pushed aside and should always be top of the list…
People.
Your people are your top competitive advantage.
Throughout my 30+ years in leadership, I've often been asked about my top business priorities.
There seems to be an expectation that top priorities are, and should be, always shifting. I'm asked what should be top priorities for a start-up? When experiencing hyper-growth? For public companies? With new product launches? When entering a new market or region?
Those asking the questions seem to expect typical answers: revenue growth, cost reduction, operational efficiency, scalable processes, sales team effectiveness. All of these are clearly important, but they have never been (nor ever will be) my top three priorities.
Throughout my entire career, regardless of company, stage, or sector, my top three priorities have always been the same.
#1 Priority: People
#2 Priority: People
#3 Priority: People
Yes, my top 3 priorities have been, and will always be, the same, regardless of circumstance. My top three priorities are people, people, and people.
People develop products. People sell products. People market. People engage with customers.
People manage the back office. People set the strategy.
People hire people. And people manage those people.
People make decisions.
In the end, regardless of your product, market, or strategy, it's people who build companies.
If you have the right strategy and product, at the right time, but you have the wrong people, then you are definitely in trouble.
On the other hand, if you have the right people (even with the mistakes and shifts you will inevitably make along the way), you will be best set up for success.
People are your top asset. Your people are your top competitive advantage.
Therefore, we must always treat our people as our number one priority.
The reality of sales talent
The market is telling us that our biggest competitive advantage is at risk. And you better take notice, fast.
If we dive into sales talent specifically, the picture appears especially grim.
According to new data from Gong's Reality of Sales Talent Report which surveyed 300+ B2B sales professionals, 45% reported they've actively pursued a new opportunity in the past 6 months.
Yes, you read that right. At just a moment's notice, nearly half of your salesforce is ready to walk out the door. Scary, huh?
This presents a massive problem. Why?
Sales team churn hinders sales. When salespeople leave, you will lose revenue from not having sales reps in seat.

Replacing sales talent is expensive. Hiring a new seller can cost anywhere from 150% to 200% of their annual salary.

Ramping new talent doesn't happen overnight, slowing revenue even more and creating interrupted experience for customers.

Cultural ripples often show up within your team, as who wants to work on a team where everyone is leaving?
At scale, (think: half your team leaves tomorrow) this has major implications on your business.
And the recent wave of tech layoffs and hiring slow downs have only added more volatility to the hiring market.
With many companies slowing or pausing hiring, retaining your top performers has become even more essential.
But why are so many sales professionals seeking new opportunities??
Is it better compensation packages? Lack of mobility? Struggles with mental health and burnout?
It's a motivation problem…
While some companies have turned to increased perks and 4-day work weeks as ways to attract new talent, our survey says… that's not the biggest problem.
When asked, sales professionals said their biggest challenge was difficulty staying motivated.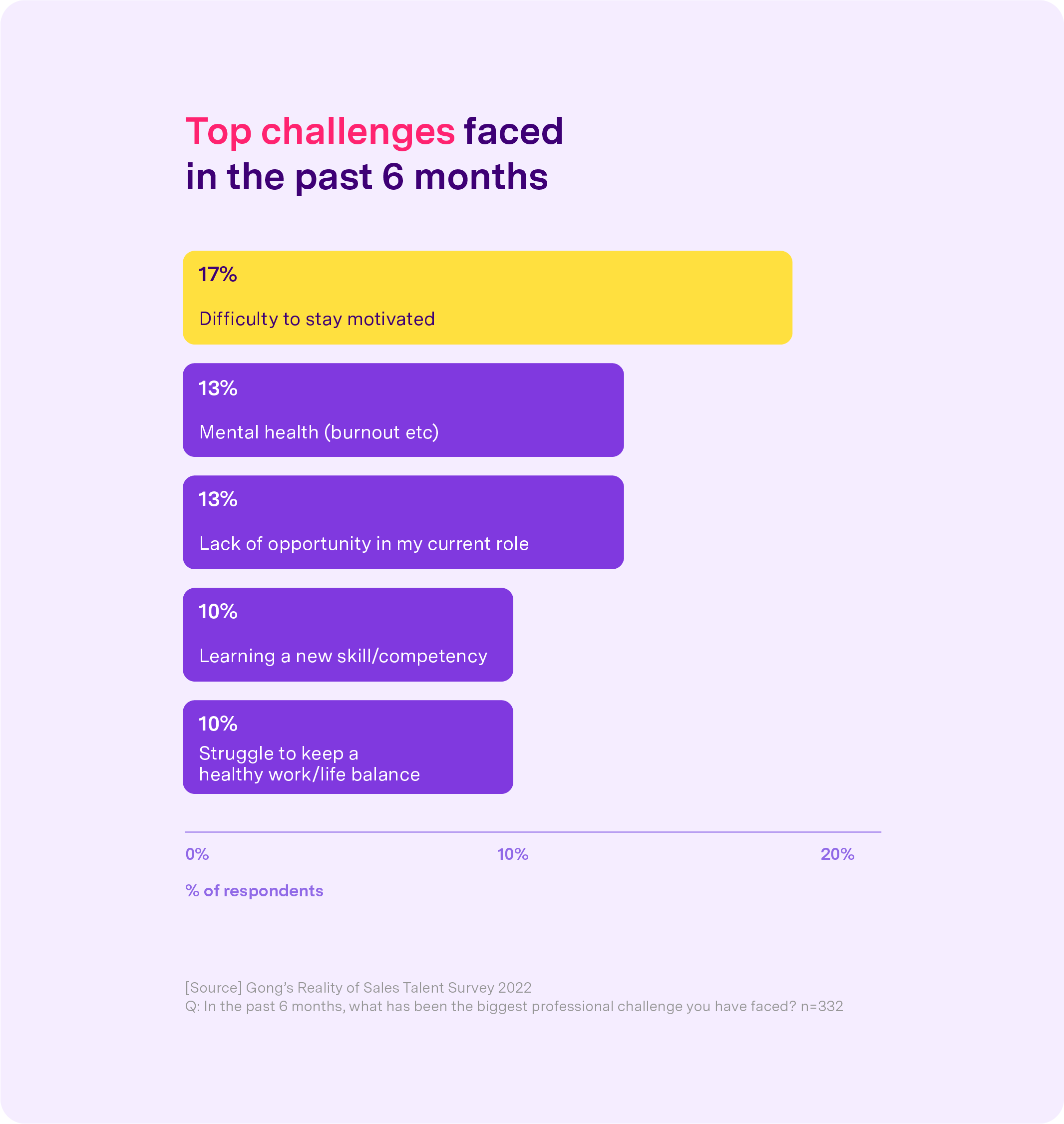 Motivation was the top challenge, quickly followed by mental health/burnout, lack of career growth opportunities, upskilling, and maintaining work/life balance.
Note: sales compensation did not show up as a top 5 challenge.
We know the past two years of the pandemic and remote/hybrid work haven't been easy on employees or on us as leaders. But these insights highlight just how strained our workforces have become.
Your employees are your greatest strength, but they are fatigued and ready to walk.
An unmotivated team can spell disaster for your goals and stagnate revenue growth.
What you can do about it
To make matters even more challenging, we have learned that motivation actually looks very different at various stages in an employee's journey.
The secret lies in understanding where your employees are in the talent lifecycle.
Attracting employees is different from retaining employees which is different from incentivizing them to perform.
Money doesn't keep people in their roles, but it does play a big part in attracting the right talent. Top talent demand fair pay, so this is a big factor in how candidates evaluate new roles. Plus, this is even more apparent today, in the most competitive talent market we've ever seen.
According to a recent Robert Half survey of more than 2,800 senior managers 48% are providing signing bonuses, 43% are giving more paid time off, and 40% are offering better job titles to attract new hires. Compensation is edging higher with more perks and incentives to attract prospective hires.
Additionally, candidates have more and better offers than ever before. When considering what your organization can do to stand out, think about the phases of the talent lifecycle.
After dangling the high compensation carrot, you've attracted the attention of the best talent. But fair compensation is certainly not sufficient to secure top people. Once in an active hiring cycle, top talent's priorities shift. One of the main reasons top talent will accept an offer (or start taking calls about other opportunities) is tied to their manager.
Any leader and company can tempt talent with top dollar. But not every leader is a great manager, and not every company is willing to prioritize people over all else once pulling talent in the door.
Retention is yet another issue. This is where priorities have really shifted in these past years, due to the pandemic, social unrest, and burnout. To retain top performers, mission and mental health become primary drivers.
Mission motivates with purpose
It excites me to see mission as a top retention lever because having a strong mission has always been one of my passion areas.
Employees now, more than ever, are motivated by working for companies that rally employees around their why. A strong mission provides a unified sense of purpose, and thereby strengthens a winning company culture.
You should be screening whether your employees are passionate about your mission during the hiring process. Since mission is a huge motivator correlated to retaining your talent, do your part to ensure new hires are passionate about your why.
Mental health takes center stage
A Gartner 2020 survey of 52 HR executives found that 94% of companies made significant investments in their well-being programs. 94%!
Why are companies investing in mental health?
According to a recent McKinsey study, by offering mental health support, employers increase employee satisfaction and engagement.
Plus, it's proven to aid in employee retention efforts.
Modern Health and Forrester Consulting found that 73% of employees and 81% of managers indicated they would be more likely to stay at a company that offered high-quality mental health resources.
Mental health support for employees is no longer optional. It's the right thing to do – and it drives business outcomes, including both productivity and employee wellness.
At Gong, one of our most unique mental health benefits is our Recharge Days at the end of every quarter. (It's easily one of my favorite benefits.)
Once the quarter wraps, the entire company takes a break for two days. No emails, zooms, slacks, or pings. Employees, including leadership, disconnect, refuel, and then come back for the next quarter ready to hit the ground running.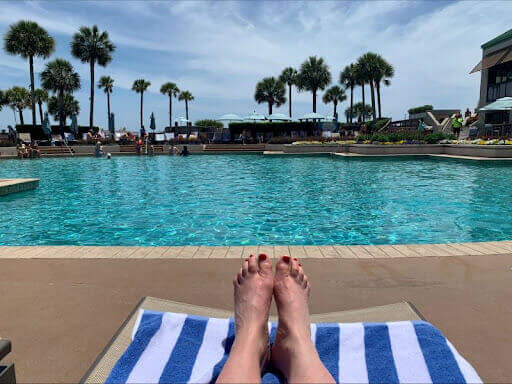 It's all about people
You may have the best product or service on the globe, and your timing might be just right for the market. But this doesn't matter if you don't have the right team.
And, of course, you won't have the right team if you can't motivate and retain your talent.
Any viable company needs to have a good product, a sound strategy, and sufficient market opportunity. But, when you think about what separates good companies from great companies, these aren't the primary differentiator. These are table stakes.
The difference between good and great
all comes down to people.
If you have the right people with the right motivations, you are off to the races. If you have the wrong unmotivated people, everything is at risk. And current job market conditions make this even harder to get right.
So always remember: People. People. People!!!
I'd love to hear from you – how do you keep your employees motivated during these difficult times?
Now that I've shared more of my journey, I can't wait to learn and grow from yours.
Until next time,
Kelly
PS: I want to personally invite you to the Celebrate virtual conference happening on Tuesday, June 21st. You'll hear how revenue leaders at the world's fastest-growing companies are adapting to the current market. Save your spot now.