In Gratitude… Giving thanks is more powerful than you think
It's Thanksgiving season.
That time of year when holiday decor shifts from Halloween ghosts and goblins to fall signs saying "Thankful", "In Gratitude", "Grateful", and "Blessed".
We decorate our houses with pumpkins, scarecrows, and fall colors of orange, yellow, red, and brown. While we know how to create the aura and vibe of Thanksgiving, do we also take enough time to reflect on the true meaning of the holiday? We should, as the holiday's name literally is "giving thanks".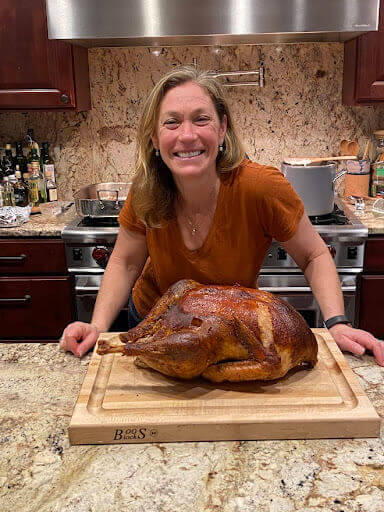 For me, Thanksgiving is about gratitude. Giving gratitude to others and remembering to be personally grateful for what I have. Gratitude is more than just the occasional thank you or showering praise at a company all-hands.
Thanksgiving may be the time of year when we intentionally focus on gratitude, but now is a reminder that gratitude is a muscle we should build and use all year long, not just during this season. Being grateful is a state of being, and we all (myself included) would benefit from showing more gratitude 365 days of the year.
In my continual thirst for learning, I read, listen to podcasts, and attend as many courses as possible. A recent favorite course I attended was a Stanford class on Happiness. Yale offers a similar course, The Science of Well-Being, which is one of the most well attended virtual courses of all time. A key skill covered in the class is Gratitude.
The notion of gratitude comes up again and again. Not only on Thanksgiving. But related to health. And happiness.
So, what is gratitude and why does it matter? This article by Positive Psychology highlights key benefits discovered in the research of gratitude, including enhanced well-being, deeper relationships, and improved optimism.
Hmmm, can gratitude really be that important?
CAN GRATITUDE LEAD TO A HAPPIER AND MORE FULFILLING LIFE?
I suggest you take a few minutes to check out the research yourself. Just type gratitude into your search box. You may be surprised at what you find.
Doing this myself, in just a couple clicks, I found some surprising benefits of gratitude: stronger immune systems, more compassion, less loneliness, and the list goes on and on.
(For a deep dive: check out this video on the power of gratitude by Robert Emmons, of the Greater Good Science Center, who has dedicated his life researching this very subject.)
The research shows: gratitude is powerful. Giving thanks and being thankful are more than just little moments to show appreciation.
We often concentrate on ways to express gratitude for others. Very important. But, we often lose sight of the importance of cultivating gratitude for ourselves as well. Gratitude has innate power to drive our own intrinsic motivation, healthy relationships, and well-being by finding ways to treat ourselves with gratitude as well.
So, we agree: gratitude matters. But how can we cultivate more gratitude in our daily lives? And how can we do this both for others as well as for ourselves?
Here are 5 ways to cultivate gratitude:
1. Thank you notes
In this day and age of email and text, handwritten thank you notes seem to be going the way of the dinosaur.
In my opinion, thank you notes make a big difference. Even more so these days when so few people take the time to write them.
I even have a special drawer where I keep meaningful thank you notes people have written to me. Bet you do too.
I remember making my kids write thank you notes for birthday and holiday gifts. They were quick to point out that very few of their friends wrote similar notes, managing to get by instead with short texts or phone calls, or even skipping thank you messages altogether.
My older son, after years arguing about the need to write notes, is now convinced of the power of thank you notes. He spends ample time writing long personalized cards, not only for gifts received, but also to people who invest time to help him professionally. I chatted with one family friend who received a lengthy hand-written snail mail thank you note from him. Guess what – it made its way into his special drawer!
2. Give Recognition
Recognition and appreciation go a long way. In fact, Great Places to Work performed a study on employee engagement to identify the most important drivers of great work. The results of this study may surprise you.
When asked the biggest driver, 7% of participants answered "pay me more", 4% said "give me a promotion", and (winning by a massive margin) a whopping 37% voted "recognize me".
Despite our intentions to give recognition, we sometimes forget. Or we get so busy, we just don't make the time. It does take effort to give recognition. And it makes a huge impact!
If you want to foster a culture of recognition, leaders must set the example.
Here are some ways we give recognition at Gong:
Multiple slack channels to share shoutouts (I post daily in my own slack channel called #love-gtm-gongsters)

Outstanding Gongsters of the Year are recognized on our website as well as on huge billboards in Times Square
Here are some additional ways I give 1:1 recognition:
Send personal notes to each salesperson who achieves quota or president's club

Personal slack messages to people who close important deals

Thank you's to individuals who present at team meetings

Appreciation to those who teach me something
3. Meaningful compliments
Of course, any compliment is better than no compliment. Still, not all compliments are equal. People may think they are giving good compliments, but many unfortunately are hollow. These hollow compliments are less impactful.
You know what I'm talking about. Compliments like "well done" or "you look nice".
I remember a boss that often told me "good job". I never quite knew what he was referring to. What exactly was good? What did he like? What made it worth a call-out? I heard him regularly repeat this "good job" message to others too, making the compliment seem generic and even less meaningful.
Think about the best compliments you have ever received. Good compliments not only make people feel great, they fuel one's sense of pride, and they even boost oxytocin levels.
How you praise is as important, or possibly even more important, than what you say. Giving a sincere compliment is easy to do.
What are the ingredients of a good compliment?
Contains specific details

Delivery with the right tone and eye contact

Authentic and sincere

Focuses on the recipient's areas of passion or pride

Unique and individualized

Timely by catching people in (or right after) the moment

Recognizes hard work, achievements, or effort (and avoids physical traits)
4. Keep a gratitude journal
I heard about gratitude journals for years. Then, the instructor in the happiness course reinforced the benefit of a gratitude journal.
I bought a journal and started making entries. I kept it on my nightstand and jotted down a list of what I was thankful for each night before bed. Initially, my daily list was short: my health, my family, shelter, food, etc.
But as I continued to write, my daily list got longer. I found many more things to be thankful for – catching up with a friend, a beautiful view, a great exercise class, small moments of joy, or seeing people treat others with kindness.
I keep my journal on my bedside table, and try to add entries right before bed. Doing this helps provide a sense of peace and happiness right before I go to sleep. Unfortunately, as life becomes increasingly more busy and frantic, I tend to write in my gratitude journal less frequently. (Counterintuitive though, as when life gets more hectic and stressful is exactly the time when I should make a greater effort to write in it!) Just writing this blog is a good reminder to hold myself accountable again for daily gratitude journal entries.
5. Share your blessings
We have a family tradition at Thanksgiving. We always start the meal by going around the table and each individual shares what they are thankful for. This takes a chunk of time before we dig into our big turkey meal. My kids used to bicker about why we had to do what they thought was an annoying exercise. Why couldn't we just start eating the yummy food that took us days to prepare?
I don't know about you, but these moments are one of my favorite parts of the Thanksgiving holiday. I love to share what I'm most thankful for, and I'm always eager to hear my family and friends, especially my kids, share what they are most appreciative and grateful for.
This gives us time to reflect on what's most important. To embrace the full spirit of the Thanksgiving holiday. We show appreciation for one another, for what we have, for our relationships, for our positive experiences, and the list goes on and on. If you don't already do this, I highly recommend you incorporate this into your own Thanksgiving celebration this year.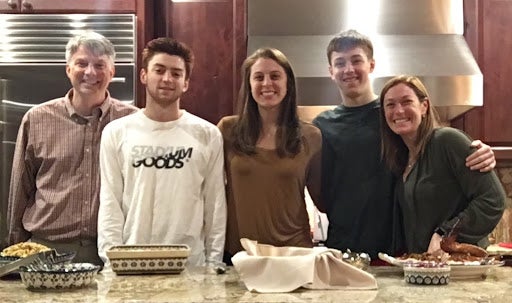 This time of year reminds me not only how lucky I am, but also of the power and benefits of gratitude. Showing gratitude is not only entirely within our control, it is also one of the most overlooked tools for making us happier humans.
It's November. Thanksgiving. Time to give thanks. Time to count our blessings. Time for gratitude.
I'd love to hear from you. What are the ways you show gratitude?
Happy Thanksgiving!