Blog
These 8 Zoom Apps Will Give You Sales Superpowers
If you've been keeping up with Gong Labs (where we publish data on millions of sales calls) you already know this:
Deals are 127% more likely to close when video is used at any point during the sales process.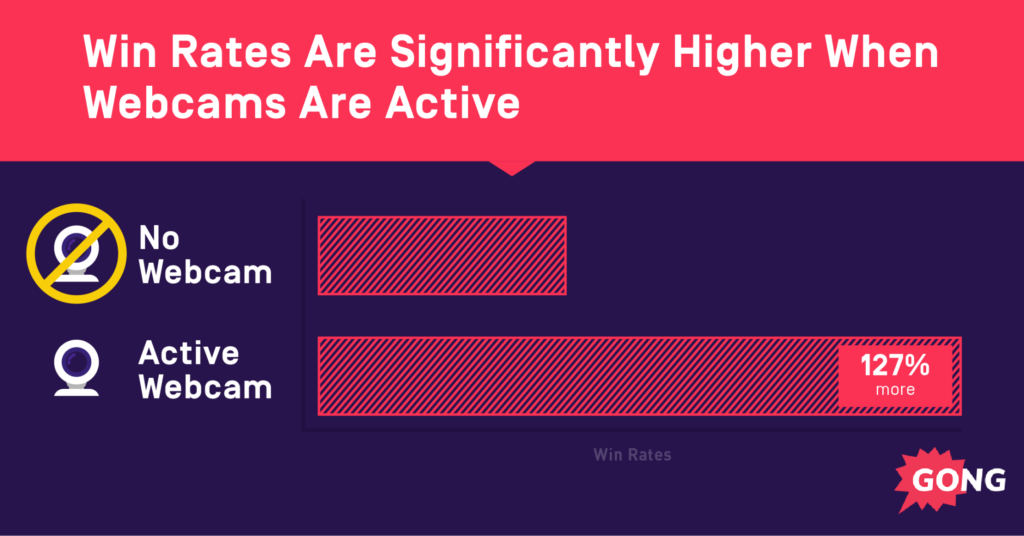 That's up from a 41% in 2018 when we first ran this analysis.
Work-the-zoom is the new work-the-room.
To get even more rapport, opportunities, closed-won dollars, everything out of your video calls, check out these 8 Zoom Apps.
First off, what are Zoom Apps?
Zoom Apps bring your favorite apps directly into your Zoom calls.
Just check the side panel in any Zoom meeting to open your app in a new window or switch between multiple Zoom Apps.
Note: Zoom Apps require the latest version of Zoom, but you can also use these apps in the old version as well as with videoconferencing solutions like Gotomeeting or Cisco Webex.
Superpower #1: Eliminate Link Malfunction
"When I was early in my sales career, my favorite boss of all time said to me, "if it's not on the calendar, it doesn't exist."
That statement stuck with me then and became a mantra I subscribe to to this day.
As sales reps — especially those hoping to book buyer meetings and move deals through the funnel, we live (and die) by our calendars. Getting a meeting booked — calendared — is essential.
The Zoom calendar integration pairs with Google and Outlook calendars for a seamless experience — for both you and, more importantly, your buyer.
When scheduling a meeting, a Zoom (or Webex or GoToMeeting or BlueJeans) link is automagically appended to the call.
It just works.
And it cuts out any chance of a "link malfunction" that can push meetings out… or get them cancelled.
Superpower #2: Book Meetings In Your Sleep
Yes, literally in your sleep.
With scheduling tools like Calendly or Chili Piper, you share a link that shows available meeting slots in your calendar for buyers to pick from.
So instead of "how does Tuesday at 4 work?" "ok, how about Friday at 11?" "no problem, how does next month look?"
You skip to meeting booked.
Super important caveat:
Do NOT use these for cold emails.
Our data shows that interest CTAs (not time or a meeting) are 2X more effective for cold outreach.
Superpower #3: Reduce No-Shows
We get it.
You're busy. Buyers are busy. Everyone is busy.
Even living by the "if it's not on the calendar, it doesn't exist" mantra, stuff still happens. We are human. We forget.
And a missed call means more than just needing to reschedule.
It could mean pushing a deal out by a couple weeks.
Sending a meeting reminder ahead of the call helps (a) get the buyer fired up to chat, and (b) well, it reminds them!
If they need to reschedule, they'll know to do it earlier (so you aren't left waiting and don't need to push out close date).
Even better: Gong sends this email reminder automatically, so you never forget.
The end result? Reduction in no-show rates.
Superpower #4: Infinite Memory
Taking notes is so pre-2015.
*Note: Gong launched in 2015. Coincidence? I think not.
For most humans, taking notes while practicing active listening is, well, not easy.
Even harder?
Taking notes while carrying on a truly engaging, dynamic conversation.
You know – the kind that gets buyers to feel heard.
When reps don't have to scribble notes mid-conversation, they can focus on their talk tracks and ask follow-up questions that uncover information that may be essential to keeping the deal moving forward.
The Gong Zoom App automates the process.
With Zoom call transcription, your calls are recorded and transcribed without lifting a finger.
Plus you get a digest after each call highlighting "follow up items" – think that doc you promised you'd send over. Or that next step that they agreed to but you still need to update in your calendar.
Goodbye, post-its. Hello productivity.
Superpower #5: Don't Over-Share
Sharing your screen with a buyer has inherent risks.
What if an angry ex texts you, and it pops up on the screen? What if an email from your boss suddenly appears? What if a Facebook alert …
You get the picture.
There is not much upside to having notifications turned on during a screen share with a prospect. But a lot can go south.
Check out Muzzle app to start silencing embarrassing (and deal-killing) notifications in calls.
Once your call is over, BOOM: Notifications are back on.
Superpower #6: Improve With Every Call
Sales pros are always looking to get better.
Like athletes trying to beat their personal best.
And the #1 all athletes do is use game tape.
Gong does just that:
First, reps can find their own areas of improvement quickly.
Second, they can track their progress week over week.
And third, they can glean a little inspiration from top performers on their team.
Now everyone is charging towards closed-won.
Superpower #7: Automatically Update CRM
Logging activities.
Meeting notes.
Updating stages.
Ugh.
As you probably guessed by the headline of this section, Gong's CRM integrations pushes activity data (call transcript, meeting participants, date, length of the call, and so on) into your CRM software of choice.
That means you can automatically log calls into Salesforce (for example).
Happy reps. Happy team. Happy manager.
Oh, and more time for sales reps to do what they do best: SELL.
Superpower #8: Zoom Past Video Fails
While these technically aren't Zoom apps, these settings are a must for sellers who spend all day on Zoom:
Touch up my appearance:
While this one won't fix a "bad hair day" or change your eye color or altogether remove that blemish on your chin, the touch up my appearance feature gives your picture display a softer focus.
Here's how to access it:
In the Zoom desktop client, click your profile picture, then click Settings.
Click the Video tab.
Click Touch up my appearance.
Use the slider to adjust the effect.
Suppress background noise:
Live (or work) in a loud part of town? Have a barking dog or extra-loud co-worker? Tired of having to put yourself on mute to silence the coffee grinder? Or maybe you just are a loud keyboard typer.
Zoom mutes background noises picked up by your microphone by default. However, if you want to get a bit more "aggressive" with your non-voice noise levels, do this:
In the Zoom desktop client, click your profile picture, then click Settings.

Click the Audio tab.

Under the Suppress background noise section, select the level of suppression you wish to use (auto, low, medium, high)
Waiting room:
It can be a bit awkward having your buyer ready to go on the Zoom call while you are still combing your hair. Avoid this situation (and other possible uncomfortable ones) by turning on the waiting room feature, giving the control back to you for when a participant joins the meeting.
How to access it:
In the Zoom desktop client, click "Meetings"

Under your personal meeting room, hit "Edit"

Then enable Waiting Room
Note: This one is mandatory if you are using a single Zoom link for all your meetings; optional if you mix up Zoom URLs.
Blur Your Background:
Pretty self explanatory.
Here's how it works:
Go under "Preferences"
Hit "Background & Filters"
Select "Blur"
Tada.
Before Your Next Video Call
Ok, now that you have all the right settings, here's how to really activate those remote rapport-building, deal-closing superpowers.
Learn the techniques supersellers use to turn their work-the-room skills into pure work-the-zoom energy.
It's all in the 10-Point Checklist for Deal-Closing Video Calls.
Download them before stepping into your next call.