Templates
7 Irresistible Cold Email Templates (Free PDF)
Cold emails getting the cold shoulder? We've analyzed 304,174 cold emails to bring you exactly what works and what doesn't.
Use these cold email templates to improve your outreach and increase your response rates. Each contains data-backed techniques that are scientifically proven to book more meetings.
Ready-to-use cold email templates

We've already done most of the heavy lifting. These cold email templates are ready to go — all that's left is for you to fill in the blanks.

Persuasive examples

Get a complete sequence of emails that you can use to capture your prospects' attention. Each template includes a full breakdown of why they work and the strategies you can use to boost your response rates.

Call-to-actions that work (and why)

Not getting any responses? Learn exactly which types of CTAs drive responses so you can book more meetings and close more deals.
How to use these cold email templates
Copy, paste, and get started

Cold email templates that fit different prospecting scenarios. Simply copy and paste these templates into your email marketing tool of choice.

Customize each template

The best cold emails are personalized for each prospect. Adapt each cold email template to fit different prospecting scenarios before hitting the send button.

Fill your calendar

Add these cold prospecting email templates to your sales arsenal. Start booking more meetings through your outreach efforts right from your inbox.
Get the cold email templates and within seconds you'll learn
Successful outreach

Most cold emails go straight to the spam folder. Make your outreach more effective by discovering powerful tips and suggestions in our templates.

3X3 research approach

Don't go in unprepared with your outreach. Learn how you can use the 3X3 research approach to personalize your pitch and show that you're more just a name.

Tactical apologies

Saying "sorry" in your cold emails can work against you. Here's how you can use apologetic language as a persuasive tool to build empathy (and boost your win rates).

Power words

Supercharge your emails with these power words and motivate more of your prospects to respond. These simple words can help boost your win rates.

Value adds

"What's in it for me?" Find out how to provide value to prospects with your emails (and why you should).

Data-backed CTAS

CTAs can make or break your conversion rates. Learn exactly which CTAs you should use in your emails (this CTA is 2X more effective for cold outreach).

Effective openers

The right way to open your cold emails before diving into the body. This opener has led to more replies and meetings booked than all other versions.

Elevate your prospecting

Most cold emails fail because they don't offer anything of value. Learn how you can build trust and position yourself as a valuable resource.

Optimal email cadence

Timing is everything. Get the optimal sending frequency to build and maintain deal momentum with your prospects.

Demonstrating results

Using generic ROI language is a bad idea. Here's what you should do instead when talking about the results your prospects can expect.

Loss aversion

How you can use this powerful copywriting technique to create a sense of urgency and get prospects to act sooner rather than later.

How to ask

A dead-simple technique to book more meetings with your prospects and get them to say "yes."
---
And there's so much more…
Build your sales pipeline with these ready-to-use cold prospecting email templates.
These cold email templates contain powerful persuasive techniques that are backed by Gong data (we've done all the leg work so you don't have to).
---
FAQs
Which cold email templates are included?
A: Download our templates package and you'll receive 7 cold email templates — each includes a full breakdown of strategies that are proven to work (and why). We've also included links to additional resources that dive deeper into the data.
Who are these cold email templates for?
A: Anyone can use these templates, but here's who stands to benefit the most:
Sales managers: Use these templates to coach your sales team on how to connect with more prospects and convey value in their emails.

Sales reps: Close more deals with cold emails. These templates cover the entire sales cycle, from prospecting to closing.

Sales enablement: Equip your team with the resources they need to sell more effectively.
What format are the templates sent in?
A: Once you confirm your email address, you'll receive a PDF link containing all of the email template. Save it to your computer for easy access.
Do cold emails still work?
A: Absolutely, but only if you know what you're doing. If your list of prospects isn't opening or responding to your emails, it's time to adjust your strategy. Each cold email template will help you get the attention of your prospects and close more deals.
What makes a good cold email?
A: Running a cold email campaign is tough. You don't have a prior relationship with the potential prospect, so it's harder to get their attention. To give your emails a better chance of success, using an engaging email subject line is a good place to start. You should also consider using personalization, creating an email list of high-quality contacts, and narrowing down your ideal customer. That means you've taken the time to understand their needs and tailored your cold email pitch accordingly. Email cadences are also a big consideration (in other words, you don't want to bombard buyers with follow-up emails).
Is cold calling better than cold emailing?
A: There's no clear-cut answer. Cold emailing and cold calling are both effective ways to connect with new prospects. A cold email strategy is easier to scale and track, while cold calls can deliver a more immediate response.
Need more cold emailing tips?
A: Here are some additional resources that'll help make your outreach efforts more effective: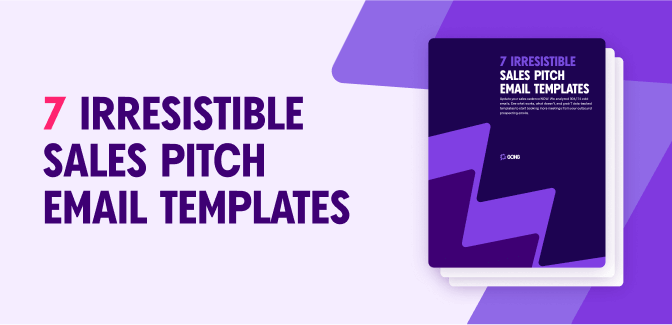 The best cold email templates for sales
Start generating more leads and closing more deals with our free cold email templates.
Thank you for your submission.