Templates
The 20 best sales templates of all time
Sales is not for the faint of heart. It's hard. It's challenging. It's a grind. But you know what makes sales even more hard/challenging/grinding? Lack of guidance. No direction. Having to reinvent the (sales) wheel. That's why we've compiled our best-of-the-best, top-of-the-top, crème de la crème sales templates ever created in the history of Gong (drama intentional). And they are yours — for free. All we ask for is your email address. Easy. Done.
THE MOST DOWNLOADED SALES TEMPLATE OF 2021
These are our 11 best sales email templates. Prospecting. Follow-up. Multi-threading. Negotiating. Closing. These templates have it all: 15,000 sales pros have already downloaded them and added them to their sales playbook. What are you still waiting for?
Sales template #1: Sales proposal deck
Everyone loves a good game of "fill-in-the-blanks," right? (think, Madlibs for Sales). Even better: A fill-in-the-blanks/Madlibs sales proposal template. And that's precisely what you will get with this 9-slide sales proposal deck template.
Expect all techniques to be:
Reviewed, vetted, and approved by top sellers

Backed by Gong data (millions of calls)

Chalked full of proven value
You'll get "dos and don'ts," tips for neutralizing common sales proposal objections, and all the secrets top earners use to grow their ACV (and commission).
Sales template #2: Mutual action plan
"Sure, that might work" is better than a hard "no" from a prospect. Or is it? With a "No, thanks," at least you know where you stand and can move on. Even better than a "might work" or a hard no is… a plan. Better yet, an action plan. Ideally, a mutual action plan (aka MAP). A MAP — mutual success plan, "go-live" plan, whatever you want to call it. A good MAP gives your deal a better chance of not only closing but closing faster.
This MAP sales template is part of our Elite Sales Training Closing Kit Master Class (ESTCKMC). While that acronym may not stick, the content from this template sure will. The template comes complete with videos (tips for aligning with prospects, so they sign on your timeline), a step-by-step slide deck (complete with "how to avoid the worst mistake when discussing price" email templates), and, of course, a printable MAP (uncover and overcome those pipeline "deal killers").
Sales template #3: Highly effective email CTAs
These 43 aforementioned, most-downloaded, data-backed, proven-to-work email CTAs will secure more meetings (faster) and help build your pipeline (quicker). This sales template is a must-have if you care about booking more meetings.
The template comes with a mix of CTAs: Interest (asks for interest, not a meeting) and specific (asks for a meeting using a specific day and time). Interest CTAs move your cold emails to warm — or even hot — leads. Specific CTAs help move your warm/hot lead further down the funnel — lock-in that next meeting!
Mo' Meetings. Mo' Money. (And fewer deals slipping).
Sales template #4: CFO letter
Chances are, if you are reading this now (which you are — think about it), you are NOT a CFO. You are likely not even in finance. You are a salesperson. A sales leader. A sales PROfessional. You are on this page because you want to up your (sales) game. You want to close more deals!
You are in the right place.
To win over the CFO (to, you know, to get budget approved and win a deal), you need to think like a CFO. This fill-in-the-blanks sales template will help empower your champion to get in the head of their CFO and use language that resonates with the controls of the cash. This CFO letter template is one that you and your soon-to-be-new-custom can complete in less than 9 minutes. Fill in the template. Send to the CFO. Land the deal. Everyone is happy.
Sales template #5: Multi-threading
Your deal is moving along splendidly until… voicemail. Unanswered email. Voicemail. Voicemail. Bounced email. Number disconnected. You've either been ghosted, or your primary POC has moved on to their next SaaS company. It happens. Far. Too. Often. The problem: You only had a single point of contact. Bad bad bad.
It's time to learn the art of multi-threading, a tactic top-performing reps have perfected to close more deals and land larger accounts. Why all the love for multi-threading? 4 letters. D A T A. On average, winning deals have three people from the buyer's side involved in the deal. Why rely on one human when you can lean on an army? Finally, a little insurance can go a long way.
This multi-threading sales playbook has three ready-to-use plays. They are yours for free.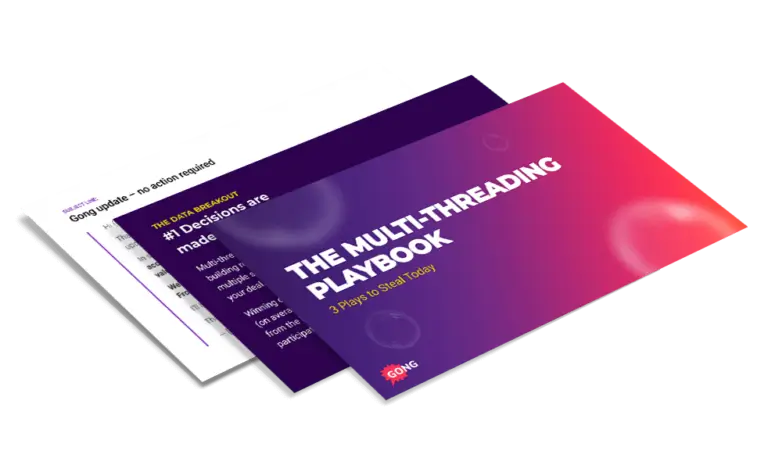 Sales template #6: Master your one-on-ones
One-on-ones are opportunities for sales pros to share what's happening in their world — the good, the not-so-good, and everything in between. For sales leaders, 1-on-1s help with projections and serve as a prime coaching opportunity. Unfortunately, these mono y mono meetings often turn into "just another meeting." Nobody wants that.
Instead, use these seven questions from our one-on-one sales checklist to flip your unproductive, ineffective, boooooorrrrring meetings into focused, dedicated, unmatched sales efficiencies machines. The checklist includes questions and active listening tips so you can start making the most of your check-ins with your reps.
Sales template #7: Pipeline review checklist
Happy ears. Committed deals with zero next steps. Ugh and Uuuuuggggh. Not at all what a sales manager hopes to hear during a pipeline review meeting. Thankfully, pipeline review meetings don't have to be based on sales reps telling managers what they think they want to hear. Or sharing "solid" deals that are likely dead in the water.
Our 7-point checklist for airtight pipeline reviews sales template shows you how to destroy time-sucking, unproductive anecdotes, and get right to the good, data-driven story. This sales template will help sales teams fast-forward to what really counts in deals, saving crucial time to strategize on how to best move forward with the next best steps.
This 7-point checklist is your shortcut to making the most of your pipeline reviews.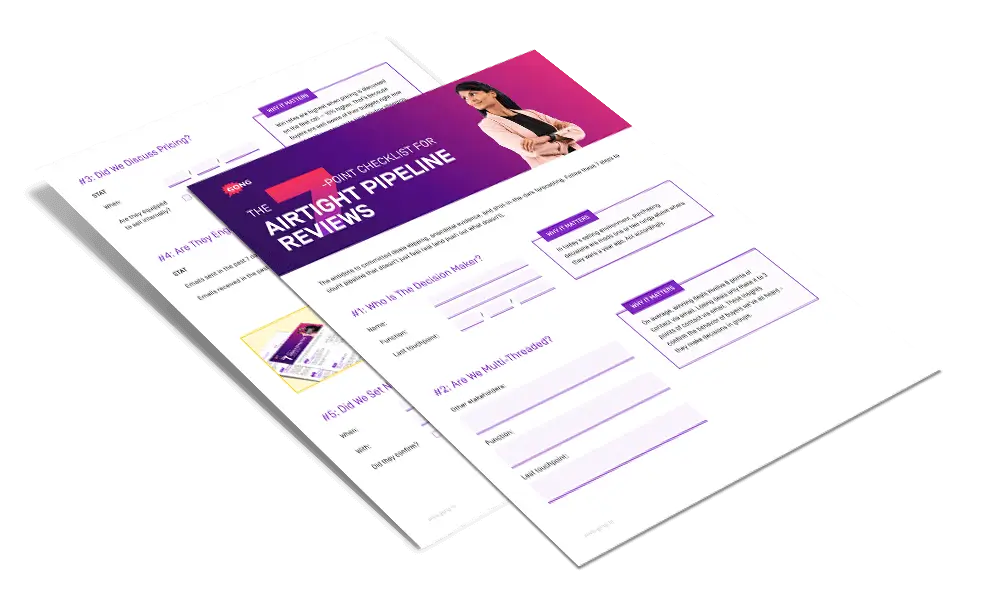 Sales template #8: Ultimate call review checklist
You know what makes a good call, what "good" looks like. Our Ultimate Call Review Checklist sales template has all the key questions you need to review to ensure you've attained "good call" status.
Questions like:
—Did they set up an upfront contract?
—How well did they uncover customer pain and priorities?
—Was their buying process clearly outlined?
—How well did they handle objections?
—How effectively did they differentiate the product vs the competition?
—Did they secure next steps?
This fully-editable call review checklist means you can enter your criteria to create the ultimate call review template and use it in your 1-1 with your reps when you're reviewing a call (or in call review sessions if you do those).
Instead, use these seven questions from our one-on-one sales checklist to flip your unproductive, ineffective, boooooorrrrring meetings into focused, dedicated, unmatched sales efficiencies machines. The checklist includes questions and active listening tips so you can start making the most of your check-ins with your reps.
Sales template #9: Cold calling script
Download these 3 cold calling scripts before your next cold call blitz. It includes data-backed cold calling techniques to grab your prospect's attention and book more meetings.
Includes a script for cold calling, a voicemail script, and an email template for cold call follow up. Step into cold calls prepared with data-backed openers, questions, closing techniques and objection handling scripts. Download the script now: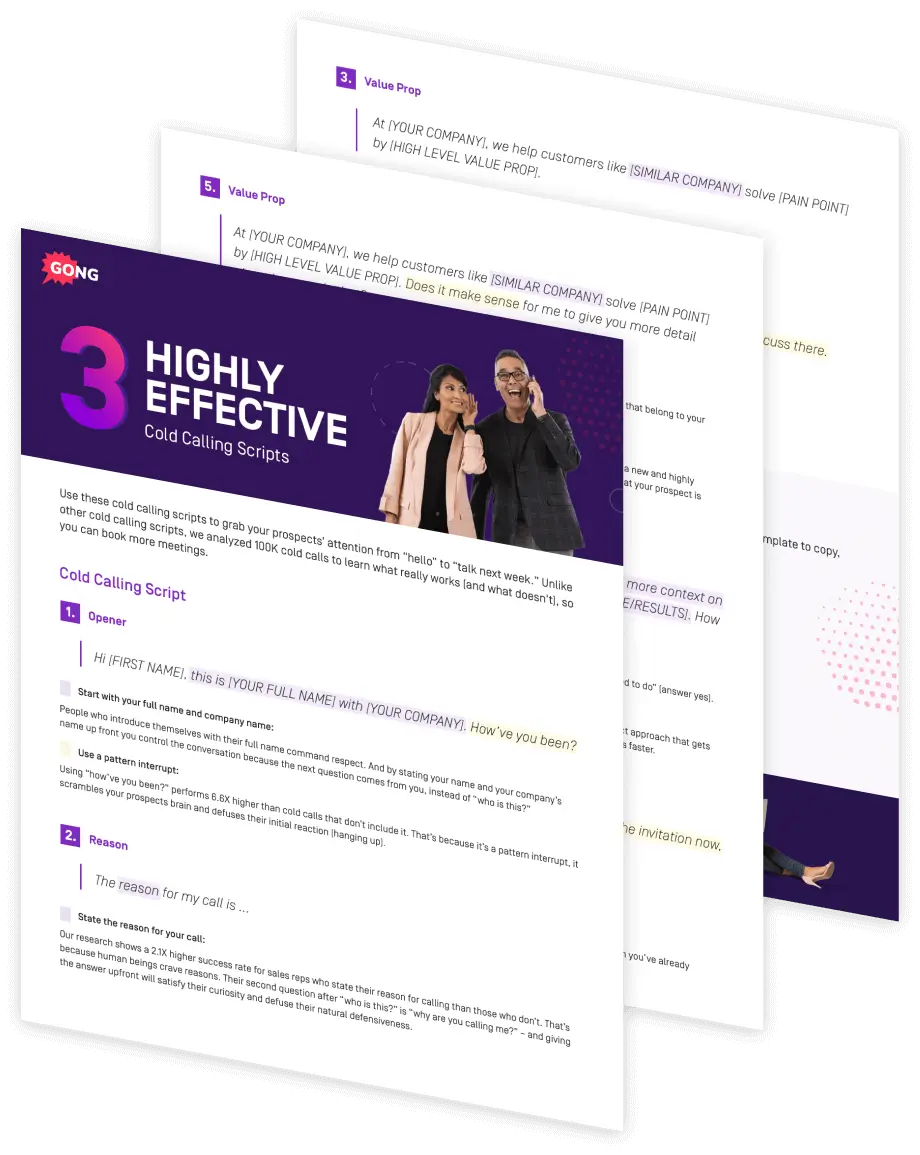 Sales template #10: Forecast Excel
This excel template is designed for sales managers to improve forecast accuracy, find gaps in pipeline, and hit your number. It includes formulas to create your roll-up forecast, measure pipeline coverage, and see each rep's weighted pipeline by stage.
Download the excel forecasting template to see your Weekly Forecast, Total Pipeline Coverage, Weighted Pipeline Coverage, Pipeline Calculator, and more. Get the template now: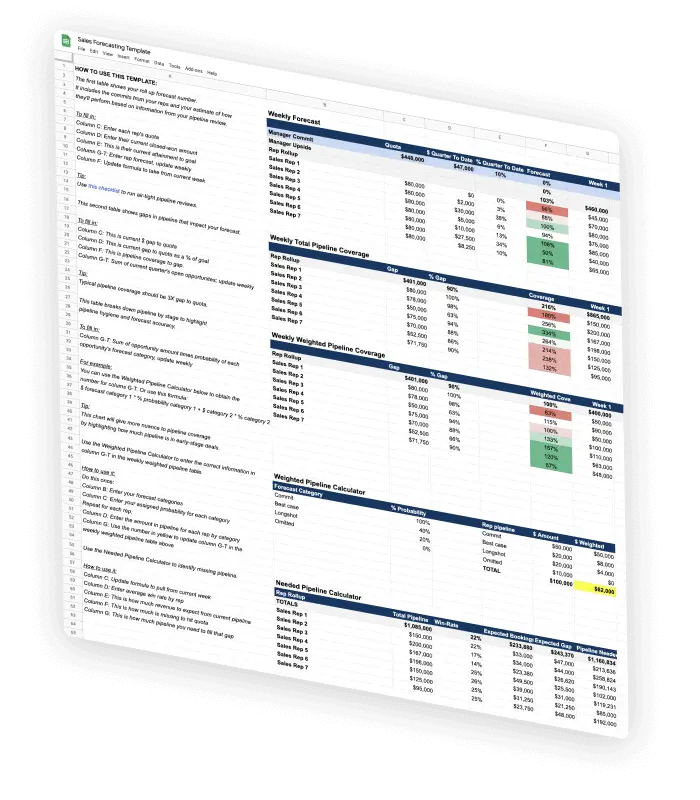 Sales template #11: Coaching plan
This template includes everything you need to focus your coaching on high-leverage opportunities for your team. Find improvement areas, drive behavior change, and monitor coaching results.
The template includes a 5-point framework to build a coaching plan as well as actual coaching examples to get inspiration from high-performing sales teams. Download it now: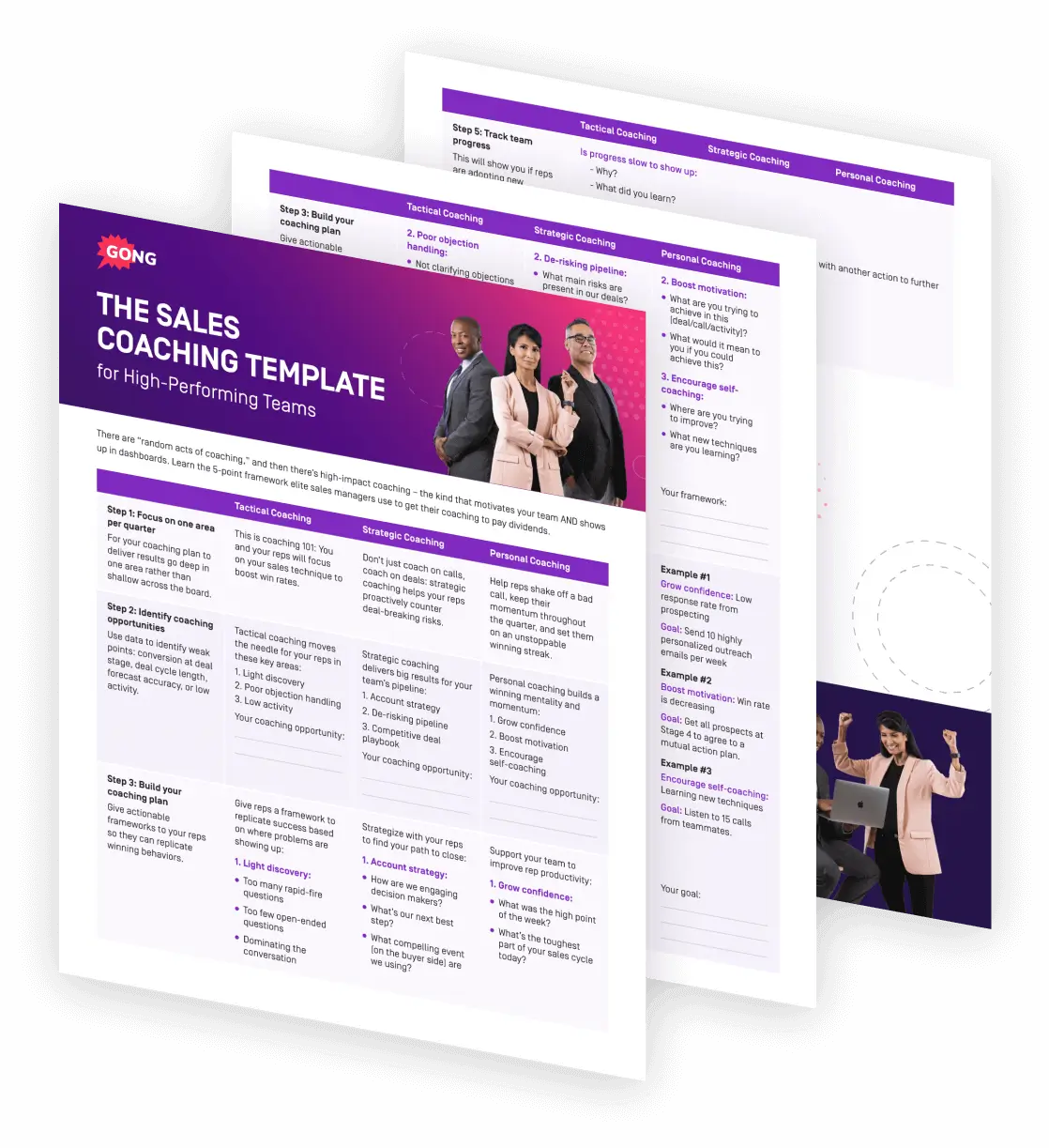 Sales template #12: Competitive battle card
Learn how to build the ultimate sales battle card. Boost competitive win rates with this battle card template to build bullet-proof talk tracks, avoid the comparison death-trap, and plant landmine questions for your rivals to step on in their calls with your buyers.
Learn how top team build sales battle cards that win deals and replicate the formula for your team. Use one template per competitor and watch your win rates spike: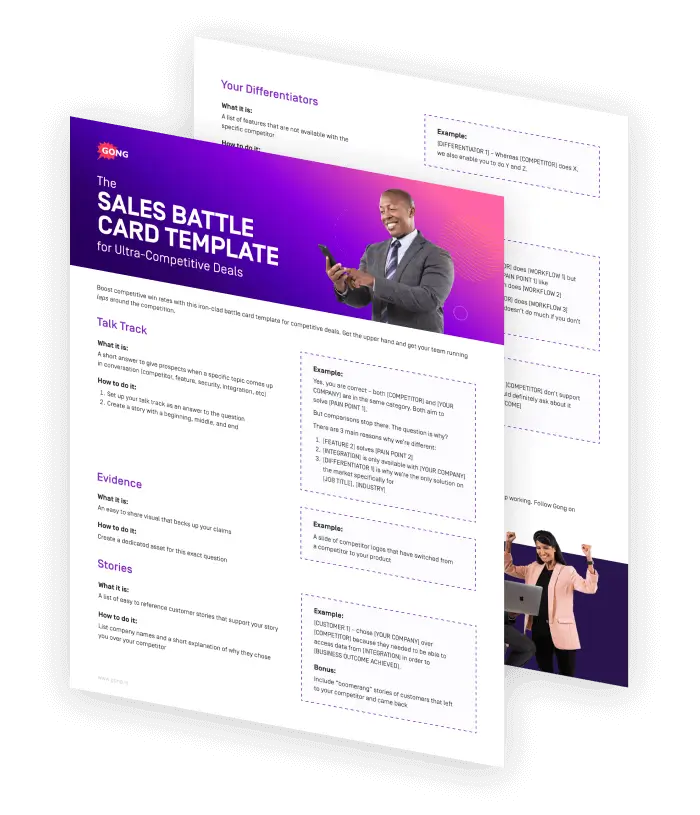 Sales template #13: Pipeline review
Use this template to move your pipeline review meetings from "catching up on deals" to full-blown strategy sessions. Identify risk in your pipeline early and help your reps build contingency plans for every hurdle in their deals.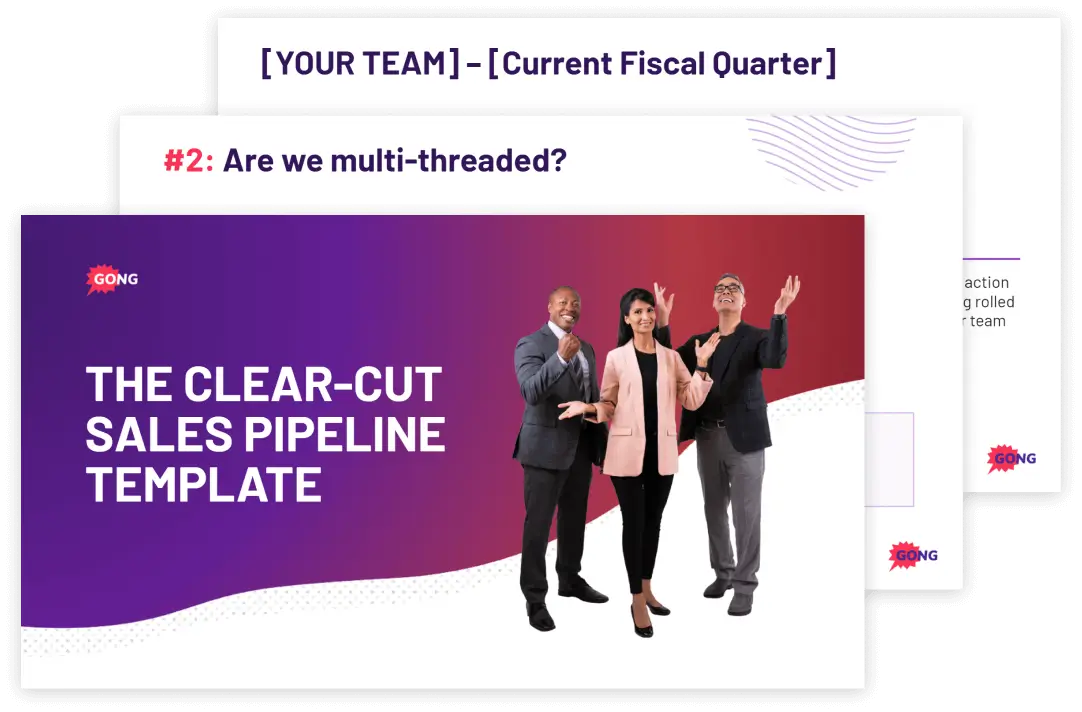 Sales template #14: Sales emails
These sales emails have you covered through every deal stage from first contact to close. Learn how to write unignorable sales emails and close more deals from your inbox. It's all in these 11 hyper-persuasive sales email templates: Get them now.
Sales template #15: Sales pitch script
Get this template to boost persuasive power and close rates from your sales pitches. Weave these 5 core ingredients into your demos, emails, and presentations to deliver high-impact pitches that help buyers get it. Love it. Buy it. Get it now.
Sales template #16: Reporting Excel
Use this sales reporting spreadsheet to track key metrics in your team. Review activity metrics, pipeline, and sales leaderboards all in one easy-to-update, easy-to-generate excel spreadsheet.
Get the template today.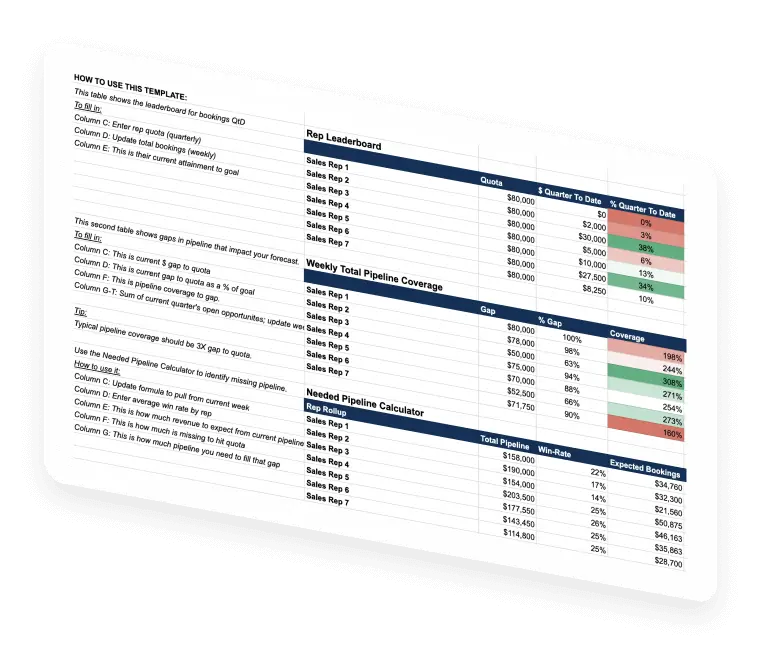 Sales template #17: Tracking Excel
Get more visibility into your team's performance with this easy excel sales performance tracker. Measure your most-important metrics all in one spreadsheet with built-in formulas to generate easy, accurate reports. Download the template.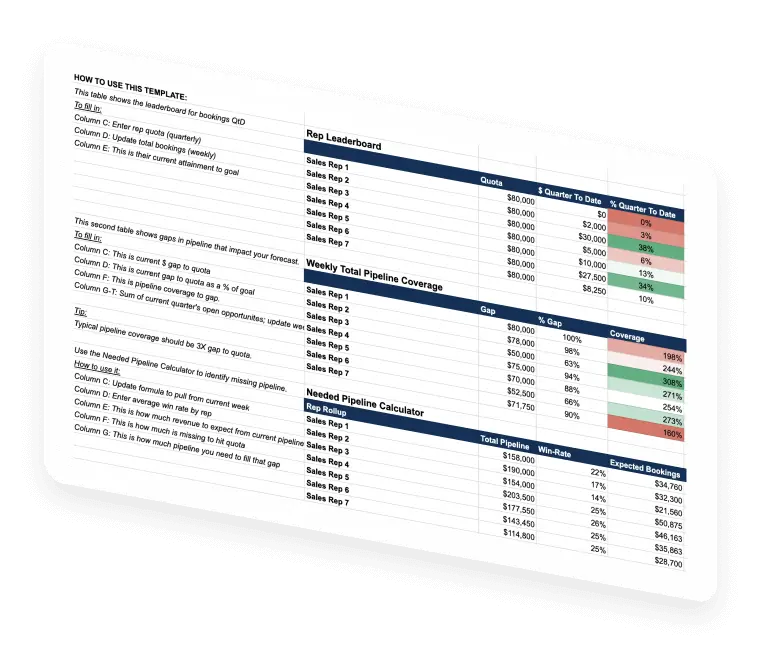 Sales template #18: Sales presentation
Learn the ins and outs of highly successful sales presentations. This sales presentation template breaks down successful sales presentation examples and lays out the blueprint for building winning sales presentations.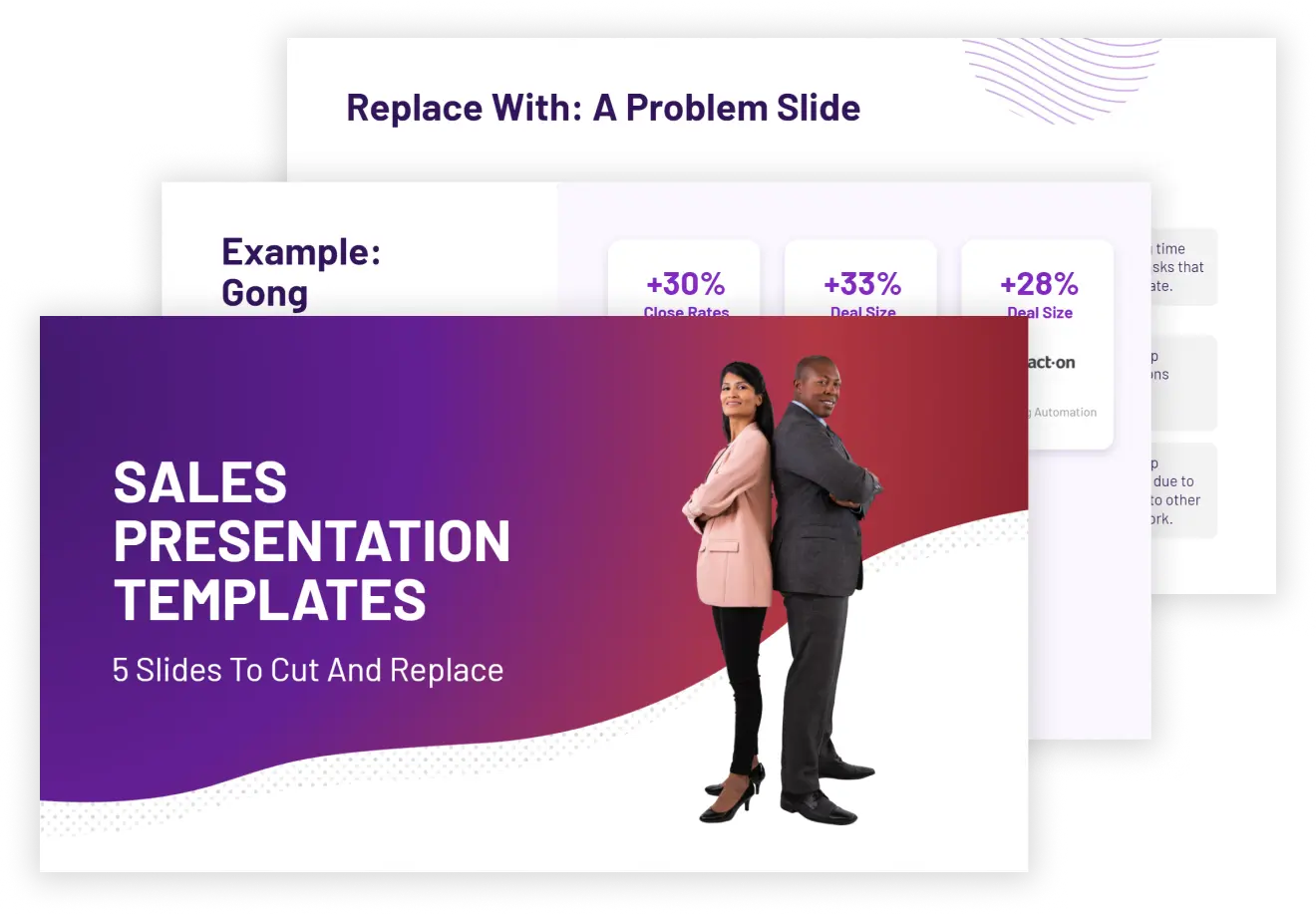 Sales template #19: Pitch deck
This is how the best-of-the-best sales pros turn boring sales powerpoints into money-making decks. Cut these 5 slides and replace them with this sales deck template to up your pitch game and boost your close rates.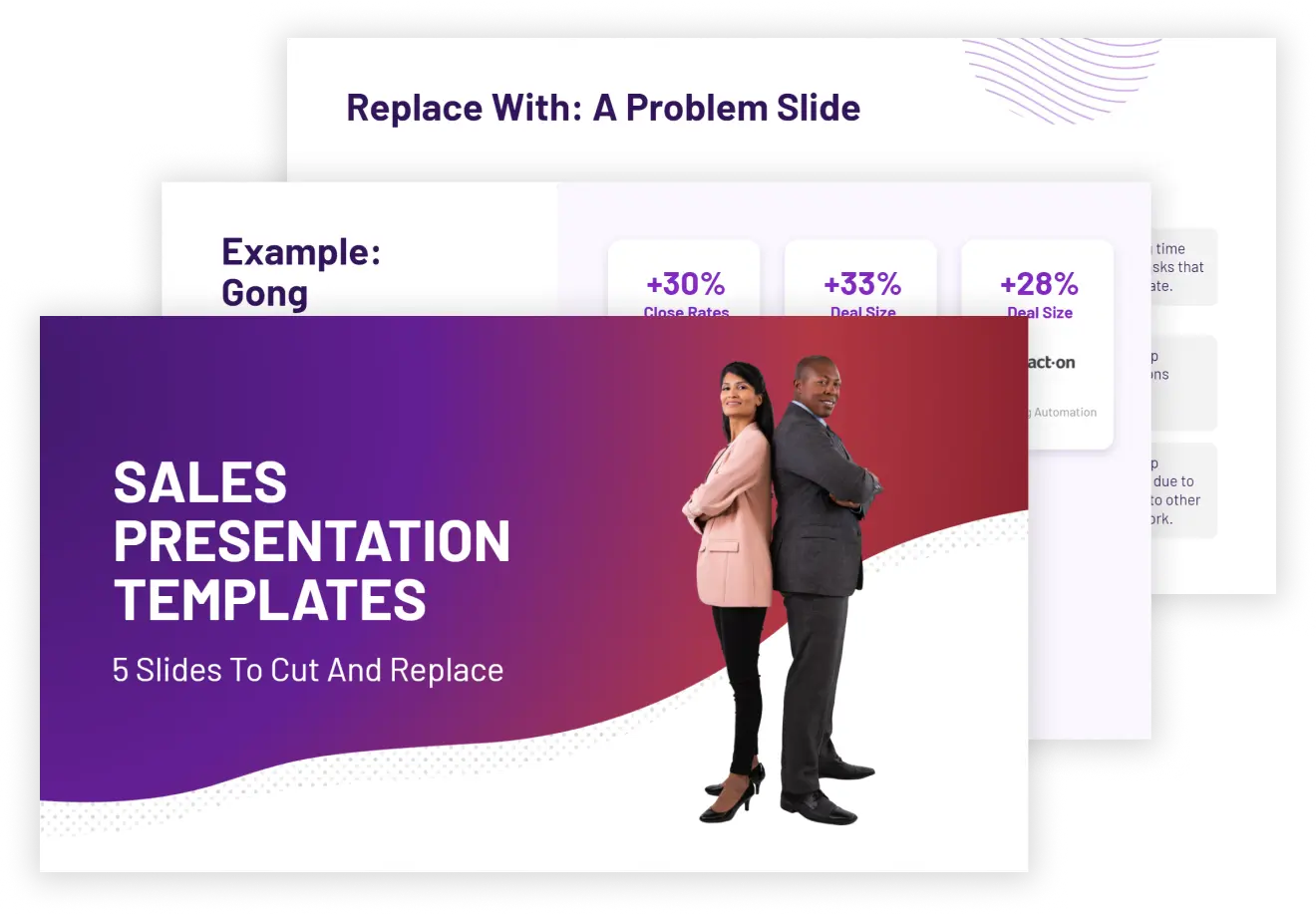 Sales template #20: Strategy doc
This sales strategy template has everything you need to build an unstoppable revenue engine. From targeting, to qualification, to process, and everything in between, learn how top performing revenue orgs achieve sales success.
GET 'EM ALL
All sales templates. Now. For free. Not a bad deal, huh?
After all, who has time for picking? Grab all our favorite sales templates and have them delivered directly to your email inbox. It's gonna be – wait for it – legendary.
Thank you for your submission.