Guides
26 MEDDIC questions to supercharge qualification and boost win rates
Struggling to close deals? The problem may lie in how you qualify your prospects.
These 26 questions are designed to focus on the RIGHT buyers. Use the MEDDIC sales methodology to transform your qualification process and drive continuous growth.
What you'll learn
Get the exact sales qualification framework that elite sales organizations use to supercharge the qualification process and close more deals.
Data-backed best practices
Learn what separates top sales performers from the rest of the pack with data from MILLIONS of sales data points.
Increase closed-won rates
How to identify your "champions" — individuals within an organization who sell on your behalf — and move more deals to closed-won.
---
How to use the MEDDIC questions
Download these laser-focused MEDDIC questions and you'll get questions for each of the qualification steps along with proven data-backed sales tips.
Drive sales success by walking your sales team through the MEDDIC sales qualification process and equipping them with these questions.
Apply the MEDDIC sales qualification methodology to identify promising prospects early in the sales process and fill your pipeline.
---
Get the MEDDIC sales qualification questions & within seconds you'll lean
Supercharge qualification
High-impact sales qualification questions based on the MEDDIC methodology — the exact framework its creators used to drive over a billion dollars in sales.
Uncover quantifiable goals
Ask these questions to find out exactly what your prospects want and get a clear picture of what success looks like to them.
Sales discovery questions
Don't go into a sales presentation unprepared. Know the objections that your sales team may encounter so you can prepare accordingly.
Ask these questions to get your prospects to reveal their pain points. Learn how to create a sense of urgency and show consumers how you can solve their problems.
Meeting with a senior decision maker? Make this single tweak to your qualification process to avoid "discovery fatigue" and generate higher close rates.
Longer responses correlate to higher success rates. Here's how you can draw out longer and more in-depth answers from your prospects.
The number of questions you ask has a direct impact on your success rates. Top performing sales reps know what the "sweet spot" is — and you can, too.
How you word your questions matters (if you want to reach the right people). Here's how to ask questions in a way that demonstrates expertise and gets your buyers to think.
---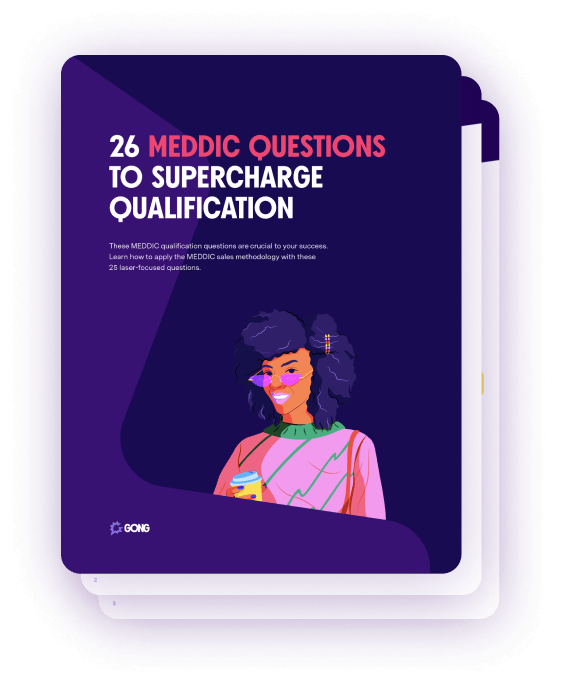 ---
And there's so much more…
Equip your sales team with these high-impact MEDDIC questions
Learn the exact methodology for qualifying prospects and determining the next steps to take.
---
FAQs
Q: What's included with the MEDDIC questions?
A: Download the MEDDIC questions and you'll get a list of questions that are broken down into the following qualification steps:
Metrics Questions: Uncover quantifiable goals that potential customers want to achieve.

Economic Buyer Questions: Find out who's responsible for making the budget and who has the power to make the final buying decision.

Decision Criteria Questions: Learn about technical decision criteria and other requirements that prospects use during the decision-making process.

Decision Process Questions: Understand more about your prospects' decision process and how their business decisions are made.

Identify Pain Questions: Uncover your prospects' pain points and leverage the answers to tailor your sales pitch.

Champion Questions: Find out how to get the most out of the champion in your prospects' organization and win bigger deals.
Q: Who are these MEDDIC questions for?
A: This resource is for the following groups:
Sales managers: Equip your sales team with a proven framework to qualify and move prospects through the entire sales process.

Sales reps: Use these questions to amplify your sales efforts and determine which opportunities are more likely to pay off.
Q: What format are the MEDDIC questions sent in?
A: The MEDDIC questions are available as a PDF file, which you can download to your desktop for easy access.
A: MEDDIC is a sales qualification framework for qualifying prospects and generating more sales. It stands for Metrics, Economic Buyer, Decision Criteria, Decision Process, Identify Pain, and Champion.
A: The MEDDIC sales qualification methodology was developed at Parametric Technology (PTC) by Jack Napoli and Dave Dunkel in the 90s. Napoli and Dunkel used their methodology to more than triple sales at PTC from $300 million to $1 billion in just 4 years.
Q: Why should you use the MEDDIC methodology?
A: Without sales qualification, you risk spending time on leads that are unlikely to close. The MEDDIC sales methodology places a strong emphasis on qualification. By focusing on better-qualified prospects, your sales organization can increase close rates.
Q: Looking for more sales tips to crush your business goals?
A: Check out the resources below: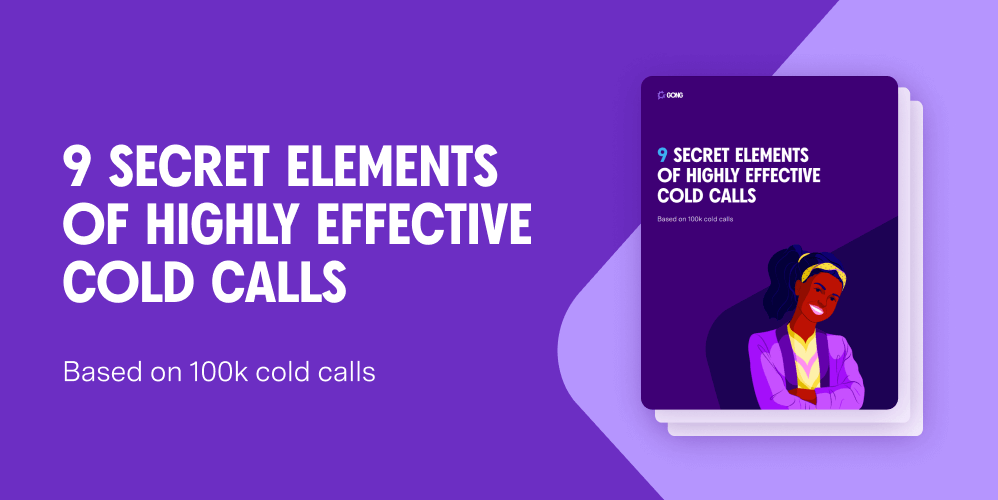 GET THE MEDDIC DISCOVERY QUESTIONS
Stop wasting time on unqualified prospects. Download the MEDDIC questions now.
Thank you for your submission.