Templates
Free Sales Funnel Template For Excel and Google Sheets
Is lack of visibility into your sales process affecting productivity? Are committed deals slipping past expected close dates? Are your revenue forecasts hit or miss?
Use this sales funnel template to track opportunities across each stage of your pipeline. Plan your next steps, forecast sales revenue, and close more deals.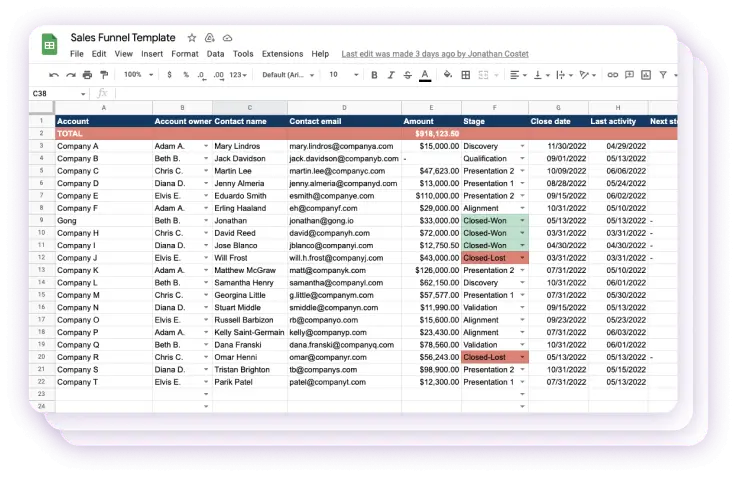 In this instant download, you'll get:
Ready to use templates
No need to build a sales funnel from scratch. Get everything you need to track and manage opportunities across the sales cycle from qualification to close.

Track funnel stages
Keep detailed tabs on your opportunities and see where they are in the sales funnel. With this information, you can tailor your sales pitch and improve your chances of closing the deal.

Forecast sales revenue
Forecast revenue and measure sales performance across your entire team. Premade formulas automatically calculate forecast data in seconds.
How to use the sales funnel template:
Customize the template
Customize the template and add sales funnel stages to fit your exact sales process. Or, use the template as it is to start managing your opportunities right away.

Update each opportunity
Update the status of each opportunity as you work with them. The sheet will automatically forecast expected revenue based on its forecast category and win probability.
Discover critical insights such as:
Deal sizes: Track the value of each opportunity to see the total value of your entire sales pipeline.

Sales funnel stages: Tracking individual opportunities couldn't be easier. Simply click the dropdown list and select the right stage to move qualified leads forward in the sales funnel. 

Forecast category: Forecast categories let you classify opportunities and determine the likelihood of closing the deal. Use this part of the template to prioritize your sales efforts.

Forecast values: As opportunities move through your funnel, the template automatically calculates their forecast value based on win probabilities. Use it to identify pipeline gaps and modify your sales strategy.
Get the best sales
funnel template today!
Thank you for your submission.