The 3 Stories Every Company Should Know And Share Often
This year has been a year of constant change. We are constantly pivoting to address the changing environment and market. How are the stories we tell help us better navigate this current climate?
Most companies' narratives revolve around products, features, and value propositions.
And while those are definitely important, there's a much bigger opportunity to build emotional connections. When you think about category-defining companies, they're overwhelmingly the ones who engage their customers' emotions through storytelling.
Throughout my leadership career, I've held countless sales kickoffs, all-hands meetings, and keynotes. People tend to retain very little when it comes to wordy decks, bullet points, or numbers. But they remember stories.
When you hear a story, "your brain waves actually start to synchronize with those of the storyteller," according to NPR. We don't just like stories; we're biologically programmed to retain them.
And the data backs this up. A study by Stanford professor Chip Heath (Made to Stick author) found 63% could remember stories, but only 5% could remember a single statistic.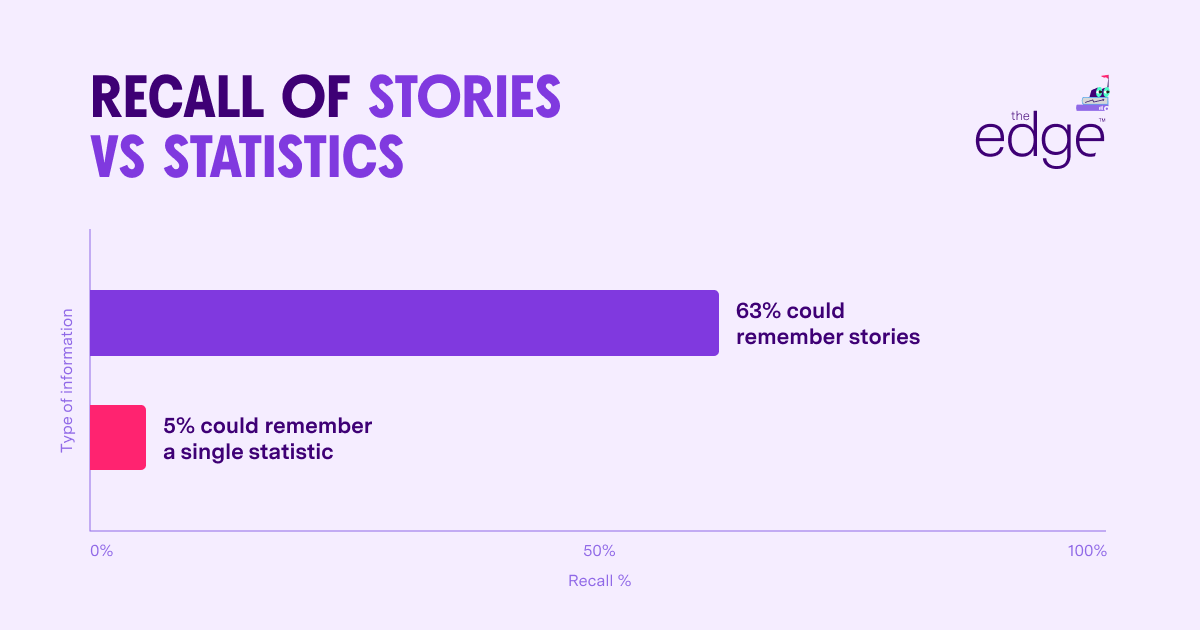 When speaking to a crowd, I often share lessons learned from my own parenting experiences, as these personal stories create a more emotional and human connection with individuals in the audience. People are actively drawn into these stories in a way that makes them easy to follow—and more memorable.
Now, even a decade later, I'll run into someone who will say, "Oh Kelly, I remember that story you told about your son – when he came to your office to get a lesson about sales. How is he doing? I know he was really interested in business."
Companies should do the same. Yes, nail down your mission, vision, and values — that's a must. Yes, speak to your company's product — you have to be able to articulate what you do and explain your features and functions. But when it comes time to communicate, frame it all through a narrative lens that drives emotional connectedness. This narrative should communicate your 'why' in a way that connects with people.
And to do that most effectively, there are 3 stories every company should share:
1. Your company's origin story
A founding story really helps to share the essence of who you are and why you exist. That's what personalizes a brand and allows people to relate and say, "Oh, I understand why this matters."
So, how did Gong get started?
Our CEO, Amit, was the CEO of an enterprise analytics company. All was going well until one day… the team had a bad quarter and missed their number.
Amit dug in to try to figure out what had happened. He went to his CRM, but could not figure out the root cause. He listened to some recorded calls, but there wasn't ample time in the day to listen to enough calls to figure out what had gone wrong. He asked around but got varying opinions from his team on what was happening. Nobody seemed to know.
Amit figured this must be a challenge other companies were having too, so he decided to build his own data-driven autonomous system to provide increased visibility and data-driven insights on what was really happening with customers. He teamed up with co-founder Eilon, who had previous experience using artificial intelligence, and that is how Gong got started. This is Gong's founding story.
Your company's origin story is extremely valuable. It's what speaks directly to your internal team, your customers, and the world at large about why you exist. This is the essence of your being.
Share it intentionally — and often!
2. Customer stories
Many customer stories focus on quantitative results. Companies will share use cases like, "this company is using our feature or function, and they got this ROI".
These are fine, and we all want to showcase our actual metric-driven results, but they aren't memorable. These use cases don't evoke emotional connections. They are vanilla and quite dry, missing the human element on why the people reading the story should care.
What's better is to be able to tell a story in a customer's own voice, highlighting not only how your customer is using your product or service, but why it matters. Gartner research highlights how buyers want customer stories. Think about how your customer stories can be shared more like human interest stories that showcase not only how your solution solved a company challenge, but also how you made a personal impact on your customer.
Back when I was at Tableau, customer stories often highlighted how the solution helped customers save time, be more self-sufficient, and generate valuable insights, etc. These stories, especially when supported by impressive quantitative results, were good and useful, but they alone didn't distinguish us from other business intelligence companies out there.
The personal customer stories are the ones people remember most. These stories inspire action.
Here's a customer story we just shared at our recent Gong Celebrate event:
A customer called herself a "wrangler of chaos". She describes her life as a wife and a mom to two little girls. She said her life is really all over the place. She shared that what gets her up in the morning is to be able to go to work and be proud of what she is doing and be a role model for her daughters. She strives for a great career while also being present for those special moments: first time walking, first time running, first words.
The most moving parts of her story were not when she described how the platform helps her increase productivity and gain better insights. Instead, the most compelling and inspiring moments of her story were how Gong allows her to achieve work-life balance. She shared how Gong not only helps her be better at her job, but also closer as a mother, as a working parent, and to accelerate her own success in ways she had never been able to before. That's the more emotionally connected story. Share customer stories that are more meaningful, impactful, and memorable.
Remember, companies don't sell to companies. People sell to people. And people remember stories about other people.
3. Personal stories
Personal stories connect your individual employees to the purpose of your organization. These allow your team to showcase why they decided to join the company and why the company's mission is important to them.
These stories are incredibly powerful in customer conversations, discussions with prospective hiring candidates, and with the community more broadly. By encouraging your team to share their own personal stories, a viral network effect can start to take place. The word will organically spread about who you are and why people should care.
For example, I initially joined Gong's board after spending my entire career helping build and scale transformative, hyper-growth, category-disrupting tech companies. My passions have always been in sales, data, and culture. In fact, I'm so passionate about sales and how companies engage with customers that I teach a business school course and even launched my own thought-leadership platform on the subject.
When I first learned about Gong, I couldn't believe how one company could tie all of my passion areas into one. The tug was so great, I just had to be more involved.
That's my personal story.
And I share it often.
I'd love to hear from you. What's your favorite personal story?