Gong Labs
Is Talking About Your Company Hurting Your Sales? This Research Holds the Answer
In the
Gong Research Labs series
, we publish data from analyzing sales calls with natural language processing and AI.
Subscribe here
for new data every week.
. . .
"Now, a few things you need to know about us: we've been around for four years (this April will make five!) and we've raised a total of $33 million." "Our founders are all experienced technology executives and entrepreneurs and we've been listed on the Inc. 500 twice." "We're experiencing 102% year over year growth because of how much customers love us, and our financials are strong." That went on for three more long minutes and several more PowerPoint slides. This classic
sales pitch template
was administered to me by a technology sales rep preceding the demo he took me through. And ironically, despite how long he spent discussing his company and its background, I don't even remember the company's name. In fact, I bet some of you struggled to even get through reading those first quoted paragraphs. Be honest, did you skip part of it? So the question is: do we spend time at all discussing our company? If so, how long? What's too long, what's too short, and what's just right? Luckily enough, we have data that sheds some light on those questions…
What Data and AI Tell Us about How Long Sales Reps Should Spend Discussing Their Company
When sales professionals talk about their company too much (company overviews, bragging about awards, explaining company history, etc.) there is a sharp negative correlation in the odds of…
progressing the deal to the next opportunity milestone, and
winning the deal down the road in the sales cycle.
As long as you speak in general terms about your company for
2 minutes or less
(on average), you'll be fine: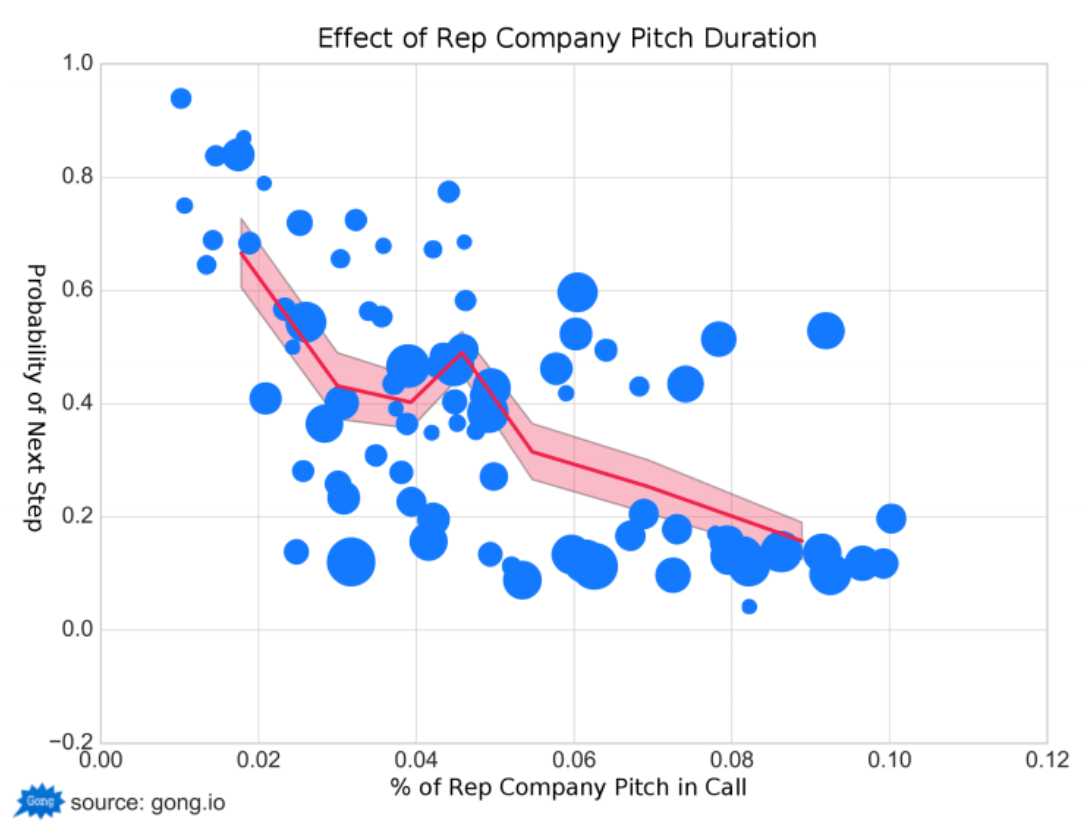 The extreme drop-off in win-rates and call effectiveness happen when sales professionals discuss their company for
more than 2 minutes in a call.
It's almost as if the
2-minute mark is a cliff.
Any more than 2 minutes, and the probability of closing the deal rapidly declines. If you're inclined to spend a full 10% of the call's duration discussing your company in general terms in one way or another (pitching your company, explaining its history, or any other general company-centric discussion),
your odds of closing the deal are a mere 25% of what a top sales professional's average win-rate is.
For example, if the top sales rep on your team has a 24% win-rate and you continually discuss your company for 10% of the duration of your calls, your win-rate is predicted to be a mere 6%.
The Takeaway
Potential customers care little for your company. They care about their problems, unexploited opportunities, and solutions you can provide. The best use of discussing your company is when you're dealing with a conservative buyer who is concerned about the long-term viability of the vendors he or she chooses due to making a high-stakes, big-ticket purchase. In situations such as that, your tactic should be to discuss your company in a way that positions it as a stable, safe choice to purchase enterprise-level products from.
"No one ever got fired for buying from IBM."