Guides
Uncensored objection handling techniques
YOUR GUIDE FOR TURNING PUSHBACK INTO PIPELINE
They didn't want us to publish this. They said it was "too sales-y". So instead, we're giving it away here. It's got all the wish-you-knew-them-sooner tips to become an objection handling master. For free. No strings attached.
Hard Data
We studied what top sellers do to handle objections. Turns out: they all adopt the same behavior patterns to overcome objections. And it all boils down to these 8 techniques.
Imposter objections
These 4 phrases have been posing as small talk. Actually they're silent objections, waiting to sneak up on you and steal your deal. Find out what they are, and how to counter them.
2021 Talk tracks
If there ever was a time to brush up on objection handling skills, 2021 is it. We're serving up hyper-relevant talk tracks to counter common objections (the ones we use at Gong).
---
Secret: See what's inside
Chapter 1: How Top Reps Handle Objections, According To Data

Chapter 2: These Four Objections Are Hidden In Plain Sight

Chapter 3: Objection Teardown: "I Need To Think About It"

Chapter 4: Objection Handling Tips For The 2021 Reality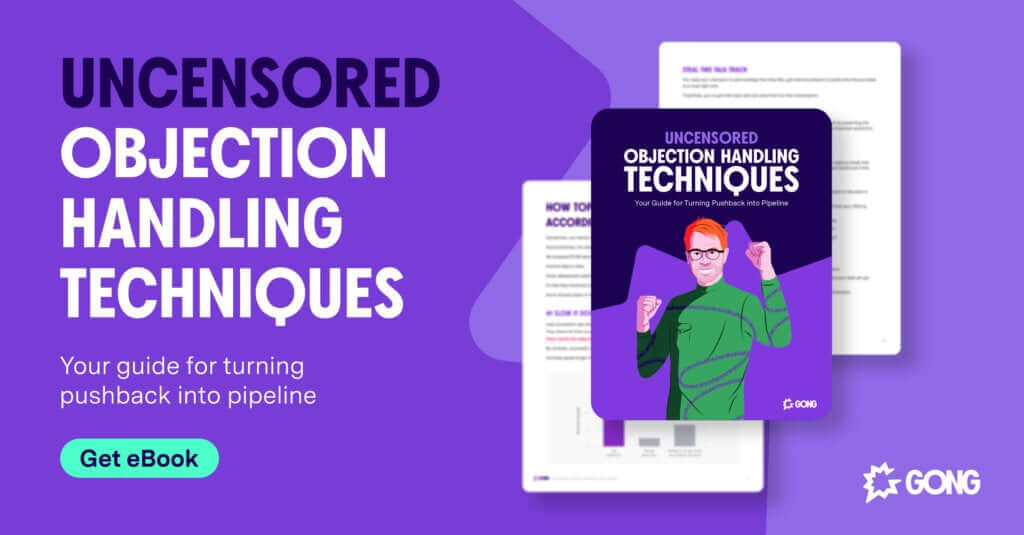 BLACK BELT IN OBJECTION HANDLING
It's like mental jiu-jitsu.
Thank you for your submission.