Improve the sales rep, improve the deal: Keeping my finger on the pulse with Gong
The challenge
Affinity had achieved a tremendous amount of growth in a short amount of time which meant that there were inconsistencies in their sales process.
The outcome
With Gong, the new CRO of Affinity was able to get up to speed quickly, create a coaching culture that was based on real data, and get ahead of industry changes in order to steer the business in the right direction.

Headquarters
San Francisco, CA
Industry
Software Development
As salespeople, the ground is shifting below us all the time. What worked great last year won't work next year, and it can take a lot of trial and effort to determine the winning tactics to close the deal today. Keeping your finger on the pulse of what's changing can shorten the time to success. The trick is for revenue leaders to find the right platform to help surface those changes and adjust the sales approach accordingly.
In early 2022, I assumed the role of Chief Revenue Officer at Affinity.co, a company that develops next-generation tools to power relationship-driven industries and applications. Our AI-boosted CRM has been called "LinkedIn on steroids." We've grown quickly, achieving strong product market fit and great market penetration in our ideal customer base. Moving at a fast pace is exciting for startups, but upon reaching the Series B and C rounds of funding, it's time to think about setting up the right processes to succeed at scale. My main objective is to scale the company efficiently and effectively to $100 million and beyond.
At a company like Affinity that has achieved tremendous growth in a short time, there will be inconsistencies in the sales process. Affinity had already partnered with Gong, so the first thing I did when I arrived was to ask for a Gong license so I could start listening to calls and getting up to speed. It would have taken me weeks or even months to figure out where those inconsistencies lay if I'd examined one sales rep or team at a time. Using Gong, it was very straightforward to see the differences between sales and find the low-hanging fruit in a fraction of the time.
But I was also looking ahead. I've spent a lot of time in the sales enablement space, and I knew I could leverage Gong to achieve my goals for Affinity's growth.
The Trifecta of People, Processes, and Tools
Many sales leaders track and review calls to see where teams can improve, but all feedback happens retrospectively. They struggle to establish a complimentary, collaborative practice of building skills and knowledge, and without that, they can't implement a coaching culture.
Coaching doesn't happen in a vacuum. When you build a culture of coaching, everyone becomes more active and engaged in success. Part of developing this culture is creating the right coaching cadence between reps and managers.
There has to be a way to measure skills and knowledge, so everyone can track performance and see improvement. We measure up to 10 skills and capabilities that drive success in deals, with the manager and the rep scoring themselves. We also track customer feedback on those same skills. We then schedule regular 1:1 meetings between the rep and their manager to discuss the rep's lowest-performing skill. They work on that skill for a month, using call recordings and insights from Gong. My VP of sales reviews the individual's monthly coaching score sheets to monitor progress. I also review them to fuel our macro enablement strategy. If I see that 60% of my team scores 4/10 on a skill like brevity, then I know the entire team needs better training around that particular skill.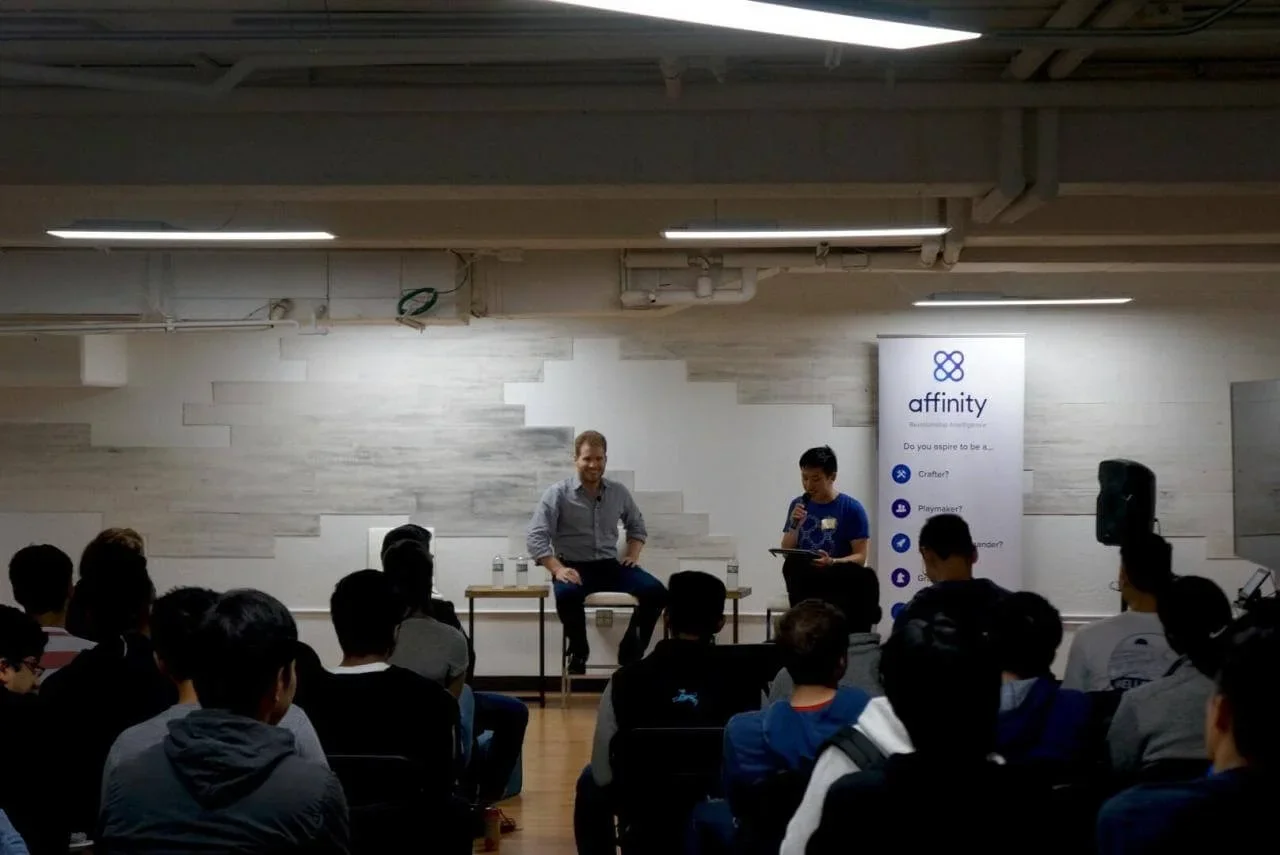 In addition to measuring skills, freeing up managers' time to listen to Gong recordings is critical. Otherwise, it's just adding one more thing to their plate without guidance and everyone, including reps, suffers. I've tried to strip away as much work as possible from our AEs and sales managers to allow them to maximize their coaching time because that directly affects outcomes.
Sharing mistakes is hard for some reps and can be a barrier to effective coaching. That's why I try to lead with vulnerability. I have bad calls too, and I share them with my team to reinforce the idea that what we do is hard, and no one will always be perfect. We encourage failure but never want to make the same mistake twice. I want my team to feel comfortable sharing their calls that didn't go well so we can all learn from them. Sometimes more tenured reps find it frustrating when a process that's worked well in the past isn't getting the same results. Gong helps us demonstrate how the ground is shifting beneath them—and concrete ways they can improve their skills and adjust to the changes.
You've got to tackle people, processes, and tools together. If you don't build people's skills and the cadence of coaching simultaneously, even the greatest tool becomes another burden.
Thought Leadership and a Proactive Approach
Gong's technology is best in class, but even more important is how the company guides, enables, and engages as a partner when it comes to revenue-based thought leadership.
I consume all of Gong's content because it helps me do my job better. They're thinking ahead of everyone in this space, and they have a powerful ability to create content and leverage data to inform their users. Gong does an amazing job surfacing insights so people like me can improve our outlook and performance.
One example is Gong's weekly email highlighting keywords used in our conversations over the past week. In this time of economic uncertainty, I can get a big-picture view of our clients' macroeconomic concerns and how our reps respond. If I see the word "recession" popping up often, I can proactively engage in those cycles that might be at risk. This concrete insight also helps in a forecasting situation where a rep might indicate a company's commitment, but that company's worried about a looming recession. That detail may change the forecast, and it's valuable to have concrete data in front of me rather than a perception of a conversation.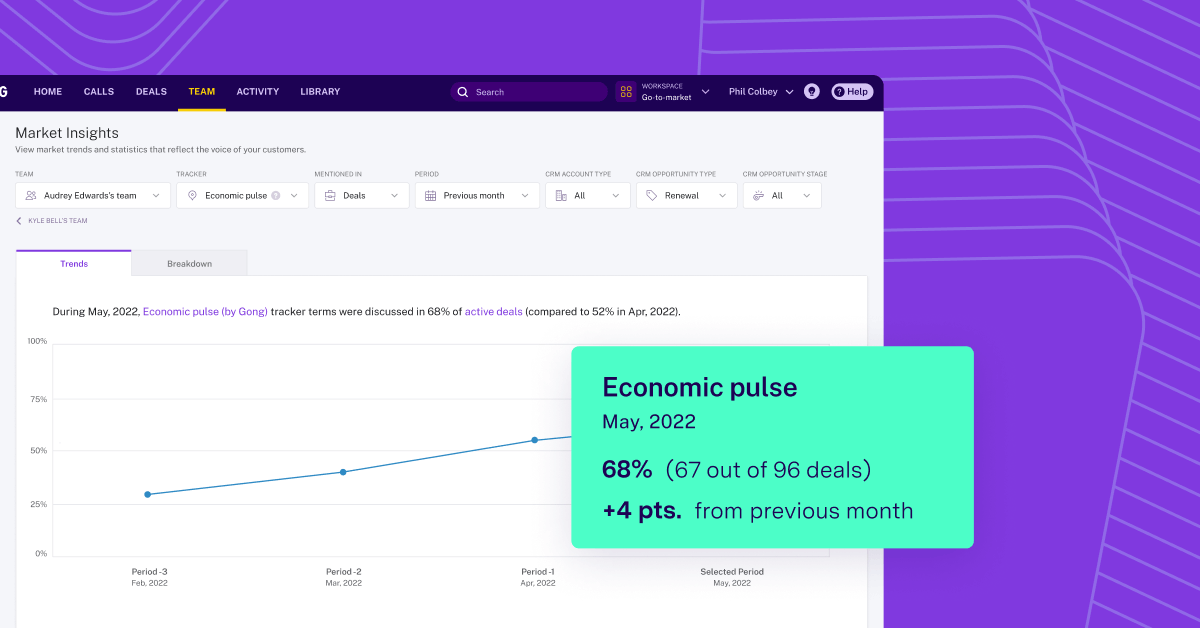 I didn't ask for this email—I wouldn't have thought to ask for it—but Gong surfaced that information without any work from me. I've also learned about Gong features like the Economic Pulse, which helps us spot trends and assess risks early as economic conditions shift.
Conversations about macroeconomic concerns happen all the time at board meetings and on forecasting calls. Now, when someone asks me about the impact of different macroeconomic challenges on the pipeline, I can offer a data-informed answer. Gong is proactive, allowing me to sharpen my awareness of industry changes so I can steer the reps and, in turn, the business in the right direction. That makes Gong a true partner, not just another tech vendor.
Upskilling People Leads to Better Deals
Without Gong, standing up a culture of coaching would have taken tremendous effort. Using Gong allowed me to level up a team of about 40 reps in just 30 days, and the speed at which I can stand up that capability is important because it determines how quickly I can impact revenue.
Employee engagement in the platform has also risen, with reps volunteering more of their calls with the team. Our coaching culture has shifted a bit, too, and you can feel everyone striving to get better. Our goal is to improve our skills scores by 20% in a couple of months.
One of our recently-promoted reps said he learned more in the previous 45 days using Gong than he did in the past two years. Before, he always had to navigate how to be a good BDR or AE by himself. But people don't know what they don't know, and even if someone listens to their calls, they don't necessarily know what to listen for.
We've changed that by highlighting the skills and attributes that lead to success and providing visibility into how reps can improve. When you tie those skills to an individual's career goals, you get more "aha" moments where the rep wants to level up their skills because of what it will do for their career.
Gong teaches revenue leaders how to run sales organizations with data, making it very easy to execute what's traditionally been a tough thing to do: coach. The thing is, I'm not trying to improve the deal. Yes, we review that pipeline to ensure deals stay on track, but the biggest bang for my buck is making sure that our reps are constantly getting better. If we improve the rep, the deals get better over time.
Have questions or want a custom demo?
We're to help! Click the button below and we'll be in touch.
Request demo