I Build a Sales Team Like I'd Build a House: From the Ground Up
The challenge
Being predominantly a remote organization, Wisely's team didn't have the in-office advantage of over hearing and learning from another rep's calls which hindered them from reaching their full potential.
The outcome
With Gong, the sales team at Wisely was able to increase their visibility across the entire pipeline and have better alignment across the org. Gong aided in creating a more structured sales org based off of data backed insights.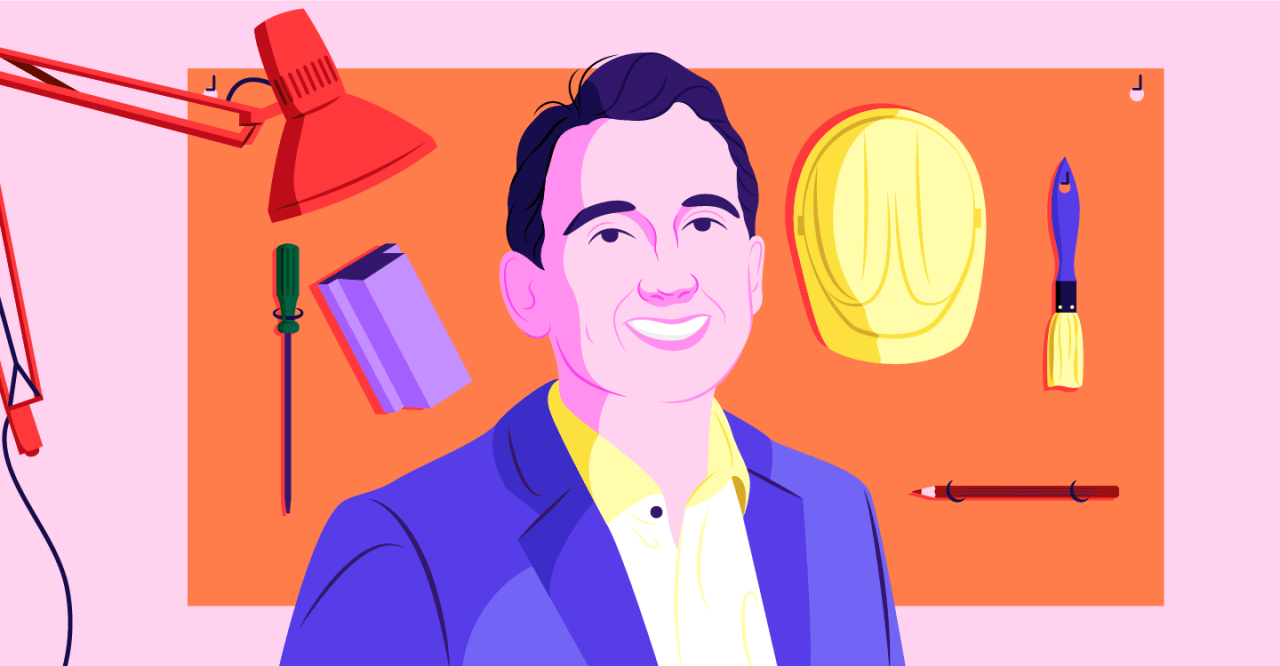 Headquarters
Ann Arbor, MI
Industry
Custom Software & IT Services
Anybody who knows me will tell you I like to build and break things. Outside of the (home) office, I'm into building things, home improvement projects, and generally, making things with my hands. When you're building anything, it's essential to start with the basics, master those, and then tackle the more advanced skills over time.
I take the same approach when building a sales team—first, identifying everyone's sales styles, uncovering their weaknesses but also helping to amplify where they excel. Then, I define processes around people. Once that's done, it becomes much easier to scale.
As VP of Sales for Wisely, I've had the chance to put these ideas into action. Wisely bridges the gap between customer data and customer experience, giving brands new ways to personalize and drive profits — at scale. Put simply, Wisely helps restaurants use data to curate a more personal experience for their guests (in-restaurant and online) and, in turn, boost profitability. When I joined the company roughly seven months ago, Wisely had already done a pretty good job building the business and the brand. The company had doubled in size every year for the past four years. They had some solid brand recognition, including quite a few very notable restaurant groups as customers. They accomplished this with somewhat of a non-standard sales org structure.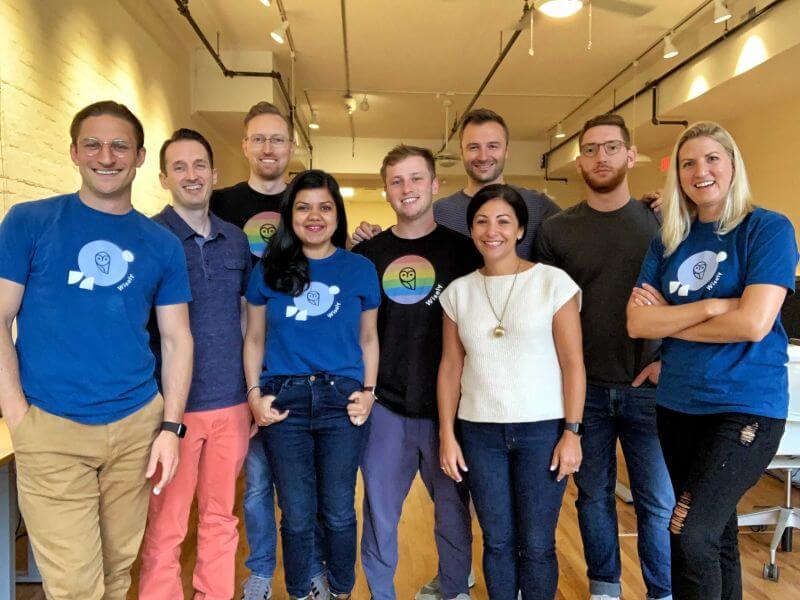 While it was evident during my interview that Wisely was a group of very savvy and impressive individuals, I was blown away by what the company had achieved without ever having an experienced sales leader like myself. I also realized that for all Wisely had succeeded; they were barely scratching the surface of the market potential. As Wisely's first VP of Sales, I knew my skillset, combined with the already present strong leadership, could help take this company to another level. My mission is to take the company to $100 million in revenue, and I'm confident we have the right team and the right product to get there. Frankly, the industry needs a solution like us.
To Build Consistency Quickly, I Knew I Needed Gong
When I arrived at Wisely, there were many inconsistencies in how the sales team was presenting our solutions and speaking to its value proposition. I knew that if our sales team couldn't talk about our offerings in a consistent way, potential customers would see us as just another option instead of the solution they needed. Being predominantly a remote organization, the team didn't have the in-office advantage of over hearing and learning from another rep's calls. Not only is this hard for new hires to ramp, but the team was also somewhat flying blind as far as being able to identify and replicate what's working. As the new Head of Sales, I quickly got to work on rolling out a sales methodology, aligning that with new Salesforce stages, buying new systems, and rolling out a dozen other changes, all of which are hard to track and monitor at scale without the proper tools.
I needed to build alignment across the organization. So I started by ensuring the team was on the same page in understanding our value proposition and what we do different/better from our competitors AND the real value we delivered to our customers. I then started working on a personal level. What are my team's individual sales styles, where do they excel, and what are the glaring issues I can help with immediately. I focused on breaking everything down to build a repeatable process, ensuring everyone mastered each component.
Early on, to address these challenges, I invested heavily in tech solutions to enable the team and make them more efficient. It was exciting for the team but a lot of change which is never easy. While I purchased many tools, the first thing I prioritized and implemented was Gong. In a sales operation's toolbox, you need a CRM at the most basic level, but to me, you can't effectively run a sales organization without Gong.
I was fortunate to have leveraged Gong at my previous company, Zenefits, so I knew the impact it could make on the Wisely sales org. Without it, it would take months sitting on calls or combing through Salesforce reports. Time lag aside, the data is still somewhat subjective and often incomplete. I needed to see what was happening immediately. Within one week of using Gong, I had complete visibility across the entire pipeline: where the holes are, where people are struggling, and why some people are more successful than others. The team also quickly saw its value and with its intuitive interface, they began leveraging it from day one.
In Place of a Gut Feeling, Data and Evidence Make for Better Coaching
You can look at metrics in Salesforce, but even if everything is up to date, you're still relying on the opinions of the AEs who swear deals are happening this week, month, or quarter and we all know some AEs have a better read on that than others. Given that we have hundreds of deals in our pipeline, I can never be on top of all of them, and if I'm not actively involved in a deal, I have to rely on what the salesperson says. With all the trackers and dashboards in Gong, I can quickly scroll through the deals in our pipeline, have an accurate picture of each of them, and start identifying gaps and shortcomings in deals early enough to impact its outcome.

That deal the AE says is 100% happening this month? If I see in Gong that the customer hasn't responded to an email in the last six weeks, I'm not counting on that deal to happen. It's the same thing if I see only one person from the customer's organization is involved or if the people involved are in positions where they could sign a contract. Big restaurant chains will likely have an entire decision team engaged if they're serious about making a change. You don't see this type of information in a CRM, but it's clear as day with Gong insights. The dashboards in Gong help me improve forecasting for our exec team without having to go through every deal with the AE prior, which is just not possible.
My Sales Managers can also use it for coaching and making their 1on1's more impactful. They can pull up specific deals they are discussing or look at the data to highlight key areas of improvement. It's game-changing.
I can see if what the team is saying on their calls correlates to the new sales process we rolled out a few months ago. While I know it's not everything, thanks to Gongs blog a few months back, one thing I'm a big believer in is making sure we always set concrete next steps at the end of every call. We have trackers built into Gong now to ensure that's happening and help us remember what is needed in our follow-up. I can see these metrics at scale, and it's accessible at a moments notice or when I need them. Gong gives me actionable intel that drives results.
Some people need more data and concrete evidence before they act or buy into your feedback. Gong delivers that for me in a clear, readable manner. When listening to team member's calls, I can provide feedback directly within Gong at the exact moment a topic is discussed. It makes the input more specific, meaningful, and actionable for the rep. Traditionally, sales managers give this advice in 1on1's, but it's hard for the reps to precisely understand where that feedback is coming from several days later. As you can see in the image below, I can also point to concrete data comparing a person's performance to that of their peers or Gong best practices based on hundreds of thousands of sales calls. Those comparisons often have a more significant impact on a rep than anything a manager or I say.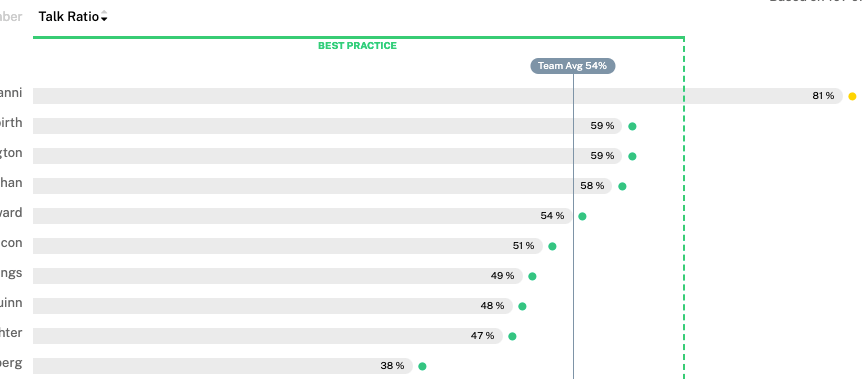 Valuable Guidance for Even the Most Experienced Account Executive
Beyond dashboards and data, there's a human element to Gong adoption. I think most managers will love it from the second they see it. Everyone can benefit from Gong, and I thoroughly believe it shouldn't be just sales leaders doing all the coaching.
With Gong, sales reps can learn from each other. Since all the calls are recorded with incredible filtering capabilities, AEs can listen to each other's calls in addition to their own. A few of my top performers found benefit in that the team can listen to their calls to learn from them vs. everyone asking for time on their calendars. Even those who have been in sales for 15 or 20 years have new skills to learn and things to unlearn. Gong does a great job pointing those out, including filler words that we are all guilty of using. Additionally, with the fast pace of tech, we all need to adapt and evolve our sales styles. With Gong, you can see those trends early before key deals are lost.
When I started at Wisely, we had just a handful of account executives. Now our headcount is in the mid-twenties, and we'll likely surpass thirty by the end of the year. At a fast-growing company, onboarding is a never-ending process, which is exciting but also requires a lot of time and work. Gong helps us do that at scale. It's still a work in progress, but we have built out a pretty extensive call library in Gong, where new hires can listen to calls on specific products, objections, competitors involved, and more. In that way, our Gong call library takes the place of an expensive e-learning system we would otherwise have to buy.
Before we had the library, it was a time-consuming process to find those calls we wanted to use as examples. Now, I have all this great content to work with, and I also encourage the team to contribute if they have a great talk track highlighting a product, addressing a competitor, or overcoming an objection. That along with all the real time insights easily gives me back four or five hours a week to focus on more meaningful work that drives the number.
I Don't Know How I Ever Ran a Sales Team Without It
I've been at Wisely for a little over seven months. Everything we're doing here is new, and we don't have much historical information to compare against. With that said, Q2 was our second-best quarter in company history, we had a strong Q3, and Q4 is looking to be our best quarter yet. While I can't attribute all of that success to Gong, it's helped me identify issues, develop new processes, and see the impact of decisions much faster than I could with the tools at my disposal before.
Without Gong, I couldn't have taken such a systematic approach to build our sales team and creating a solid foundation for future growth—and I was still able to move quickly. Gong gives us clarity, and we can move forward in a more predictable and fact-based manner rather than going on a gut feeling.
Gong keeps up a great pace of innovation, continuing to advance the product. I wouldn't be surprised if there comes a day when I don't need to log into Salesforce at all because everything is so tightly integrated between the two platforms, and Gong is by far more insightful. That's a day I look forward to. There are many things available today that we haven't even gotten to yet, like scorecards, and I'm sure many others. As Gong keeps rolling out new features and integrations, I expect our adoption will only increase. In fact, with its impact on sales, our CX team has also rolled out Gong within their organization, so it's been exciting to see how Gong is now impacting other areas of the organization.
I don't know how I ever ran a sales team without Gong. Now, I don't know if I could. I live and breathe in Gong as much or more than I live in Salesforce. It helps me identify problem areas much faster, helps me predict the next month or next quarter, and has ultimately made me a more data-oriented leader, which has made a positive impact on my career overall. Thank you for all you do, Gong. I can't wait to see what you might be coming out with next!
Have questions or want a custom demo?
We're to help! Click the button below and we'll be in touch.
Request demo